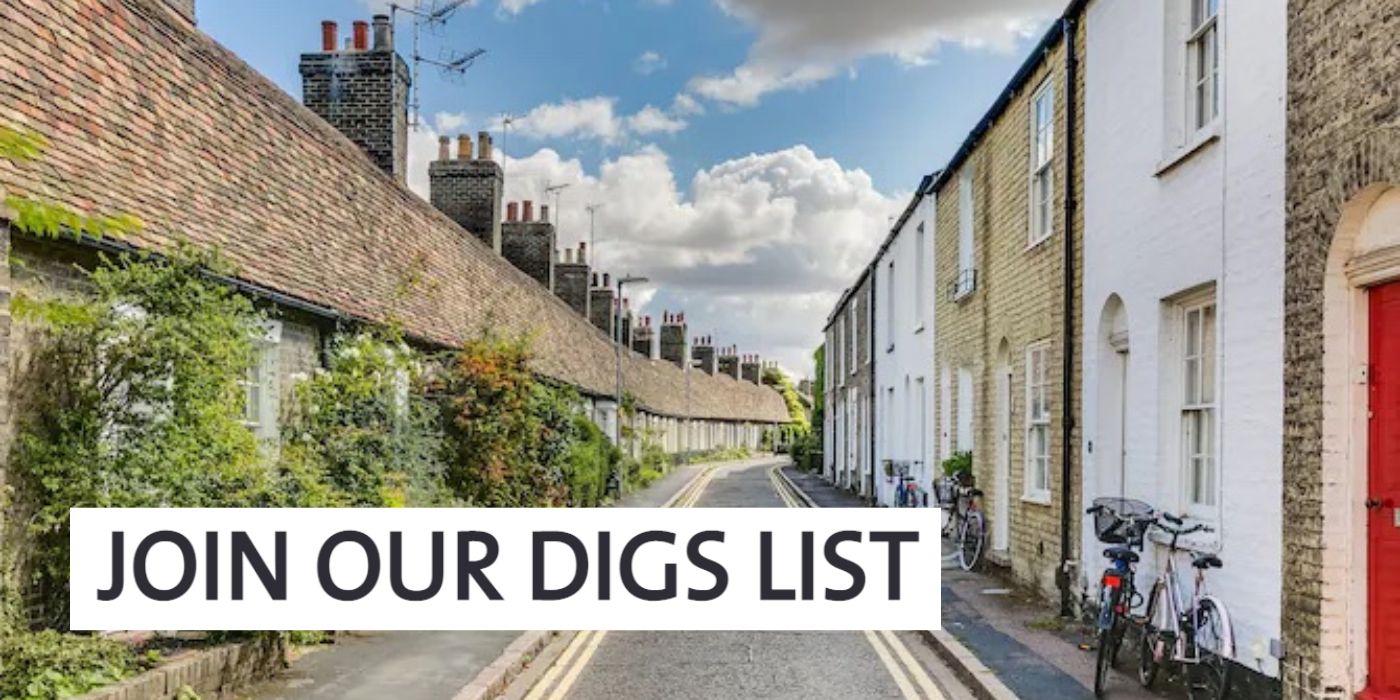 Do you have a spare room that you are not using?  Do you live close to the centre of Cambridge, or close to transport links?
List your space on our digs list to make some extra money and meet lots of interesting people! 
At Cambridge Arts Theatre, we're always on the lookout for new accommodation to host our visiting actors and company members. It's the perfect opportunity to make use of your extra space while also supporting the arts in Cambridge.
If you would like to sign up to our digs list, please >> fill out this form <<.
All completed forms and should be sent to Emily Hall at 

[email protected]

. 
---
Want to find out more? Read through our FAQs. 
Digs List FAQs
What is a digs list?
A digs list is a list of local accommodation for short term lodgers that a theatre provides on request to visiting theatre companies (e.g., cast, stage management and creative team members), providing them with a place to stay while working at the Theatre.
How do company members book my room/accommodation?
We provide our digs list to the visiting theatre companies, who will then contact you directly. This is a private booking between you and the visiting company member and does not require any involvement from the Theatre.
What type of room do I need to join the digs list?
We list a variety of different room types, from single spare rooms you may have vacant in your house, to self-contained apartments. The only requirement is that it includes a clean, private room, with access to a bathroom, and within reasonable distance to the Theatre.
What details do I need to provide?
Information we will need includes:
-       How many rooms you have available
-       The price per night per room
-       Size of room (single/twin/double)
-       Room occupancy
-       Private bathroom/shared bathroom
-       Proximity to the Theatre/ transport options to the Theatre
-       Any further amenities provided
-       If breakfast is included or provided at additional cost
-       Accessibility
-       Parking availability
-       Whether your room is smoking or pet friendly
-       A description of the room
Please also let us know if there is any other information you would like to be listed along with your accommodation. 
How much can I charge for the space?
How much you charge for your space is up to you. In general, prices vary based on the size of the space, starting from around £15 per night. You can also let us know if you would prefer to advertise a weekly charge.
How long do company members generally stay?
Most visiting companies perform on our stage for one week, arriving on the Monday/Tuesday of the week and leaving on Saturday of the same week. This means you could get to meet lots of interesting people from all sorts of different shows!
Alternatively, during longer shows, such as our annual pantomime, a company member may need accommodation for up to eight weeks. This is a great opportunity to really get to know your guest and have some regular extra income during the busy Christmas period!
How flexible can I be with my availability?
Very flexible! The great thing about joining our digs list is that it is all completely controlled by you. You will be able to discuss arrival and departure times with the company members directly, and you can, of course, choose not to accept any bookings which aren't convenient for you.
Didn't find an answer to your question? All further questions should be sent to Emily Hall at 

[email protected]

.