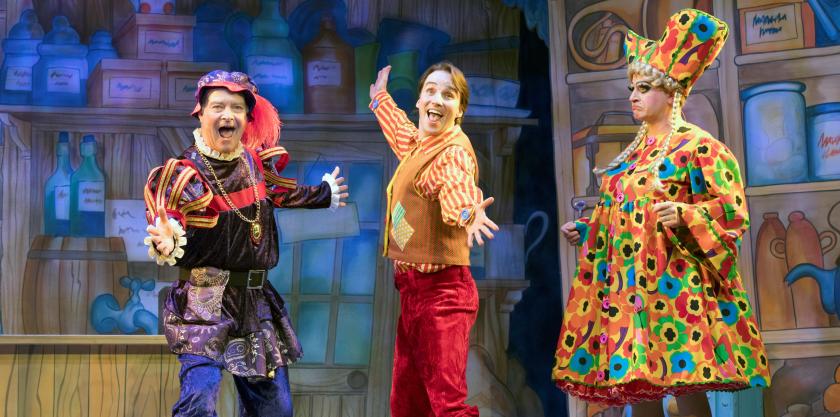 Friday 16 December 2016
Accessible Theatre for Everyone
Making theatre accessible to all is incredibly important to us, as we believe that everyone should experience the magic of the arts!
Each year we put on over 40 accessible Performances, including British Sign Language interpreted, Audio Described and Relaxed Performances. Tomorrow we have our Relaxed Performance of our pantomime Dick Whittington, one of our favourite shows of the year!
A Relaxed Performance is specifically designed to welcome people with an autism spectrum condition, learning disability and sensory or communication disorder, and families with very young children.
We have been running dedicated Relaxed Performances for Special Schools in Cambridge for many years, but began offering public Relaxed Performances 3 years ago with the pantomime Robin Hood. We did this alongside The Relaxed Performance Project: a nationwide project which aimed to raise public awareness of Relaxed Performances, and to increase the number of productions that offer them.
A few of the adjustments made to a Relaxed Performance are:
Reduced volume
No pyrotechnics/sudden loud noises
Auditorium lights remain dimly lit throughout
Auditorium doors are kept open so the audience can move in and out if they wish
A Visual Story is available prior to the performance, with information and pictures so everyone is prepared – new spaces can be intimidating
These slight changes and relaxing of the 'rules' of theatre mean that it is a much calmer environment, anxiety is reduced because as is no pressure to behavior in a certain way. Everyone can relax and enjoy the show in any way that is comfortable for them. Oh yes they can!
Here is a brief description of BSL, Audio Described and Captioned Performances below, other examples of accessible theatre that we offer. These have been running for years and are regularly offered throughout the season on a wide range of performances including musicals, comedies, dramas and children's productions!
Audio Described performances: For audience members who are blind or visually impaired, a describer speaks into headphones, and describe all the physical action on-stage.
British Sign Language (BSL) Interpreted performances: For audience members who are deaf or hard-of-hearing, an interpreter stands at the front right of the stage translating all spoken words into sign language.
Captioned performances: Another option for the deaf or hard-of-hearing, all the sounds on stage (spoken, sound effects and music) appear, in word form, on a screen above or to the side of the stage, much like subtitles on TV.
In addition to the making the shows accessible throughout the year,  we think about access in and around our building. The building has automatic entrances, no-step access to the auditorium, lifts to all floors, 4 accessible toilets and 4 house wheelchairs and 1 electric wheelchair (which needs to be booked in advance so we can ensure it is fully charged for you) for customers to use whilst visiting us.
Click here to take a look at our Assisted Performances throughout the season.
We are always keen to improve accessibility at the theatre, if you have any suggestions accessibility we would be very happy to hear or meet you. Please contact Victoria Willingale on 01223 578912 or at [email protected] for a chat.