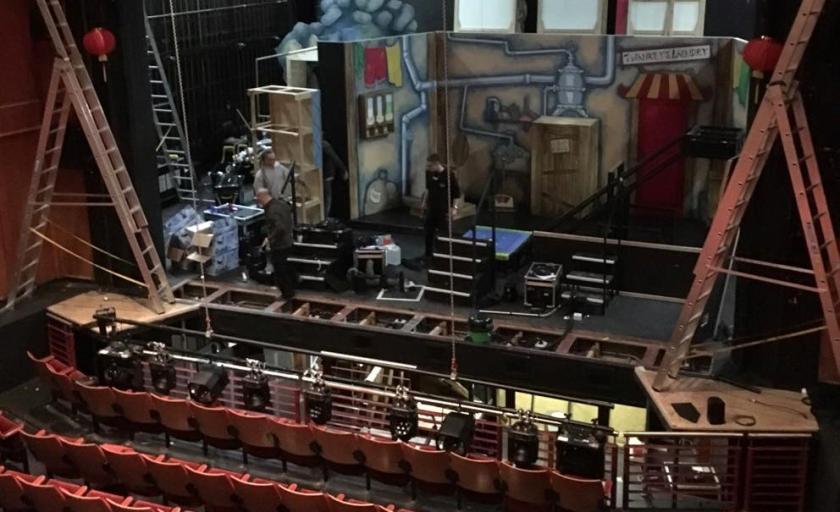 Thursday 3 January 2019
A Day in the Life of... A Stage Technician!

The third and final of our A Day in the Life of... pantomime edition blog posts is with our Technical Assistant Harry Chell! Harry's main role for our pantomime is a flyman (he operates the numerous set pieces that need to be flown in and out of the stage by pulling ropes attached to each bar!). Each bar can hold up to a tonne of weight - so no mean feat! 

We've picked Harry's brain about panto-world, here's what he had to say... 

Describe your pantomime role in three words?
HC: Behind the scenes... or backstage scene builder!

At what point in the year does your work on the pantomime really kick in?
HC: In terms of stage work, it's quite late, about a week before we start Production Week (a few days before the Preview!). But in terms of booking all of the lighting, sound and stage equipment, that's usually several months in advance.

Picture this - it's a week before opening night and you arrive at the theatre amidst rehearsals, describe your typical day?
HC: I'd check the stage is set properly for the right scene for rehearsals, or check what is required by the director or lighting team. I'd also generally be on standby for any changes or cues.

What's the best and worst parts of working on a pantomime?
HC: Long hours, but the satisfaction of seeing the show go up and come down successfully makes it all worth it.

Aside from a Stage Technician, what would your dream panto role be?
HC: I would love to be the Dame!

And one reason why the people of Cambridge should join us for Aladdin?
HC: It's another spectacular Cambridge Arts Theatre pantomime... why would they not join us?!

Aladdin runs until Sunday 6 January 2019. For more information and to book tickets, please click here.