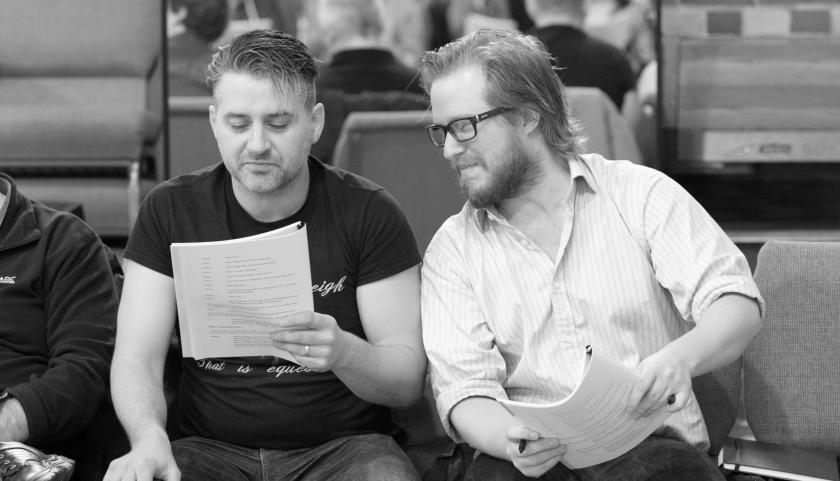 Friday 25 November 2016
Dick Whittington Behind the Scenes: 5 Minutes with the Writers!

Now that curtain-up for our spectacular family pantomime Dick Whittington and his Cat is just one day away, all the writers can do now is wait! This week we sat down for a chat with the script writing duo Matt Crosby and Al Morley, and found out what it's really like writing for the joyful, hilarious and bizarre art-form of panto...

Firstly, what kicked off your respective careers in writing panto scripts?

MATT CROSBY: In true panto style, I pretty much fell into it. After contributing jokes and 'patter' to the Cambridge Arts Theatre panto scripts playing Buttons, Silly Billy and Wishee-Washee for seven years, I started to co-write with director, Mike Fentiman. In 2014 I was paired up with Al and I became what he affectionately calls his 'writing wife'.

AL MORLEY: I've known Matt for years so when the opportunity presented itself to work on the Cambridge panto with him it was a dream come true. I did a Scriptwriting MA a few years ago and my writing is a sideline to my 'day job' in theatre, but it's all very interconnected really!
What's your rough timeline for writing the script together?

MC: Panto writing is constant. I get excited at the start of each year and pester Al with gags and then as soon as he tells me to start working on scenes, I drag my heels until he starts chasing me. I can only say 'the dog ate it' once or twice before he cottons on.

AM: Everyone aged 3 to 93 knows that the Fairy Godmother helps Cinderella go to the ball, or that Jack climbs the Beanstalk and fights the Giant and so the challenge is finding fun and inventive ways to tell the story whilst honouring the traditions of the art form. I usually start working on the story and pulling a skeleton draft together in early summer then let Matt run wild with the jokes. After that it's weeks of tweaking and cutting before the cast get it in November.

What's the best and most difficult part of writing pantomime scripts?

AM: Writing in rhyming couplets is the worst for me. King Rat, in true panto villain style, speaks in verse a lot. It's really hard trying to convey what you want to say sometimes when you need to find a rhyme!

MC: The best parts are seeing the script come together and my ideas and Al's coming together as one. The worst for me is seeing certain gags getting cut before they even reach the rehearsal room, but we have to be very rigorous with ourselves. Sometimes we might find something screamingly funny but then the producer reads it, it's actually rubbish!

And your favourite panto character of all-time is...?

MC: I love playing Dame now. The fat suit and range of costumes fill me with joy at the start, though towards the end of the run they're stained with make-up and sweat and I get tired of getting changed. I loved playing Buttons and Silly Billy as it was one costume throughout!

AM: Cinderella's Ugly Sisters. You get the opportunity to write the most spiteful lines, it's very cathartic.

What's it like writing the script together rather than working on it on your own

MC: If I was left to write the panto on my own it wouldn't get done until 2019.

AM: I'm still waiting for your first draft from three years ago.

MC: Al leads the process and pushes us both to stick to deadlines, which keeps things focused. Our first proper get-together in the year was at his with a bottle of Baileys to get us into the Christmas spirit. My breakfast the next day consisted of 2 Anadin and a McDonalds.

AM: That can be next years show, Anadin and his Magic Lamp.

And how does it feel seeing your words and ideas go from paper to on the Cambridge Arts Theatre stage in front of a live audience?

AM: The first read-through with the cast is nerve-wracking. I genuinely think that no one will laugh at the jokes but they always do. But nothing quite beats the experience of seeing the show performed to a sell-out audience; it's different each time, and I love seeing how much joy children get out of watching a live show, many for the first time.

MC: I have to let go as soon as it's been signed off and start working on my acting. You can't be precious about material. It's wonderful hearing it for the first time with all the cast. There's only a certain amount of voices Al and I can do when we're reading it through together.

By the end of the panto season, are you sick to death of puns and slapstick comedy? Or is your entire life like a never-ending Slosh Scene?

MC: It's always nice to have a little break when it ends but after two weeks, I'm ready to get back into it again. After this year's show I start getting ready to play a teacher at Birmingham Rep in 'To Sir, With Love'. I don't think there's a slosh routine… not yet, anyway.

AM: I'd build a 'slosh truck' in my garden if I could! It's nice to have a couple of months after Christmas to work on other writing projects, but panto always draws me back in earlier each year. I've already started making notes on the story for next year!  

And lastly, why should the people of Cambridge come to see Dick Whittington this Christmas?

AM: It wouldn't be Christmas without a trip to panto, would it? My first panto experience was in Leeds in the mid-80's. I booed and threw foam cannonballs at the Sherriff of Nottingham and cheered Rula Lenska playing Robin Hood and I can still remember it 30 years later.

MC: I love panto. It gets you into the Christmas spirit and this particular one is fabulous. Great cast, great gags, great songs, great talent… and as for this year's slosh scene, you'll just have to wait and see!

Dick Whittington and his Cat runs from Thursday 1 December 2016 - Sunday 8 January 2017. For more information and to book tickets, please click here.