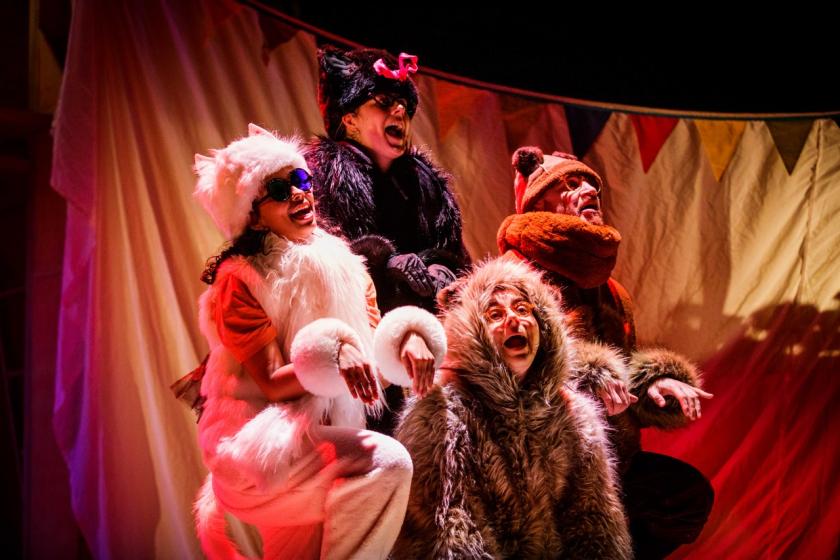 Friday 24 February 2023
5 minutes with The Wardrobe Ensemble

Ahead of their show arriving in Cambridge just in time for World Book Day (Thur 2 March), we caught up with the team behind Mog the Forgetful Cat - The Wardrobe Ensemble - to talk about the process of devising a stage show based on such a popular book series and what families can expect!

How did Mog the Forgetful Cat come about?
We were approached by the Old Vic after they had seen some of our other work for children. We then met the team at Harper Collins to share our ideas for the stage adaptation - luckily they liked them! We then did one week of research and development where we read all the books and decided which ones we felt translated best to the stage. Helena
The show was supposed to open in 2020 but obviously the world had other ideas… So we paused the production process but kept thinking and talking about Mog. In 2022 we were finally able to restart, with most of the same team we had before! Hannah
How do you create work? Do you work as a group? What's that like? Who makes the final decisions?
We've been working as a collaborative theatre making collective for over ten years and have developed a process that is responsive to the various stages of creating a show. Initially, during the research and development phase of a project, decision making and creation is very much a collective endeavour. We all chip in ideas, write, devise, direct, and have an interest in movement and music and so our rehearsal room is often bubbling with ideas, and we create much, much more than will ever make it to stage. Tom
Ideas can come from any member of the company at any time. We have directors who start out acting as facilitators, when the process is quite open ended, but then the closer we get to opening night, the more their role as "outside eye" comes to the fore, when difficult decisions have to be made. Nonetheless there is an openness to our process that means we're always on the lookout for ideas that can help to refine and strengthen the show. Ben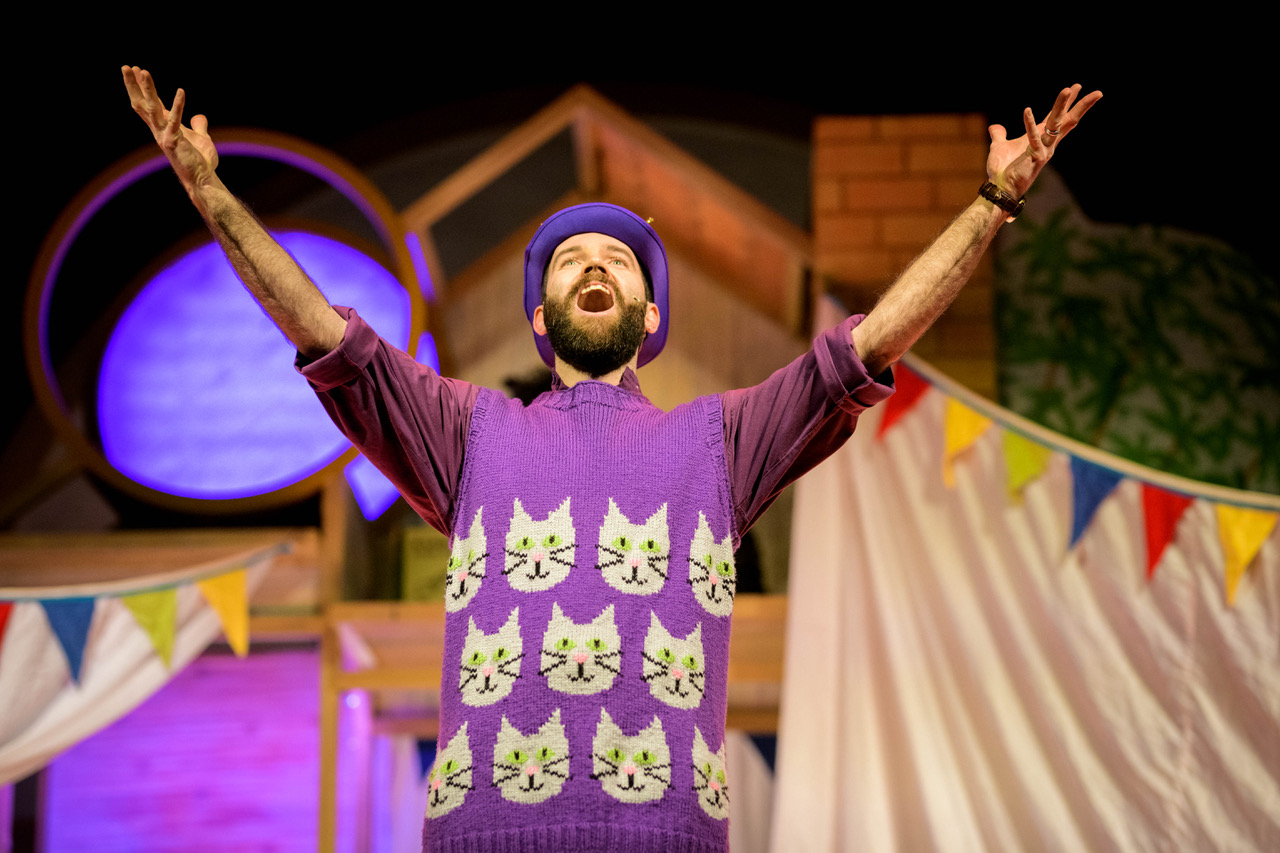 Is there a typical creative process that you follow? Is that different for making a family show?
We are a devising theatre company which means that we create all the content working together in the room. We make our adult and family work in the same way however, because Mog is an adaptation, we read the books then write out all of the set pieces and motifs and any ideas that we might have for songs. After that we create lots of content and then refine it all! Helena
The general process of making a show is broadly the same across all of our shows. We research and develop, take time away, and then come back together for a focused period of rehearsals leading into a show. The tone of the room, however, and the nature of discussions surrounding what we make can be vastly different. Often, when making family shows, we feel a little freer (although some might disagree) given that we aren't thinking too deeply or philosophically about the messages we are trying to land. That work, particularly on a project such as MOG, has been done for us by the author of the book, in this case Judith Kerr. As such, we can follow their ideas, get lost
in the story in the same way a child playing with their friends would, and liberate ourselves a little more. It really is an unbelievably playful and joyous experience making work for children, young people, and families. Tom

We usually start with research and development, lots of improvisations, experimentations and discussions. Then we start creating scenes and characters, and eventually we start sewing those ideas together into a larger piece of work. We're very aware of our audience as we create our work, and that informs the sort of stories and characters that we create, however fundamentally our creative process remains the same: research, discussion, experimentation, creating scenes, characters, storylines, and then refining our material into a satisfying and theatrical whole. Ben

Are the Judith Kerr books something that you all grew up with?
They certainly are! I loved reading Mog and The Tiger Who Came to Tea. There is such warmth contained within their pages. We spoke a lot in the early stages of research about the feeling you have as a child when you read a book for the first time or, as often is the case in schools and in homes, you are read to by a teacher or a family member. It is so powerful and so wonderful. It provides a moment of safety and comfort and it is an absolute pleasure to have a job that brings stories to life in a new way for children and their families. Tom

I absolutely loved the Mog stories and the Tiger Who Came to Tea when I was younger. I would always be so excited to pick up any new Mog books at my school book fair. It's been such a privilege to work with Judith Kerr's family and Harper Collins to bring the books to life. Helena
What can audiences expect from the show?
Warmth, playfulness, silliness, comfort, joy, nostalgia. Tom

The show should be entertaining, fun, silly and make children and adults laugh side by side in equal measure. Ben

How will the staging work?
We've picked some of our favourite Mog stories and spliced them together to create a fun filled hour of japes and scrapes with plenty of music and songs. We meet all of Mogs 'people' plus a few extras including a robber, a V.E.T and a pet shop owner to help us tell those stories the best way we can. Kerry

There's music involved - tell us more about that. Who has been responsible for the words the music? How has the creation process worked?
Joey Hickman originally composed the music and wrote a lot of the lyrics, though other members of the company have written some of the lyrics too. Our creative process allows for good ideas, lyrical or otherwise, to come from anyone in the room! Ben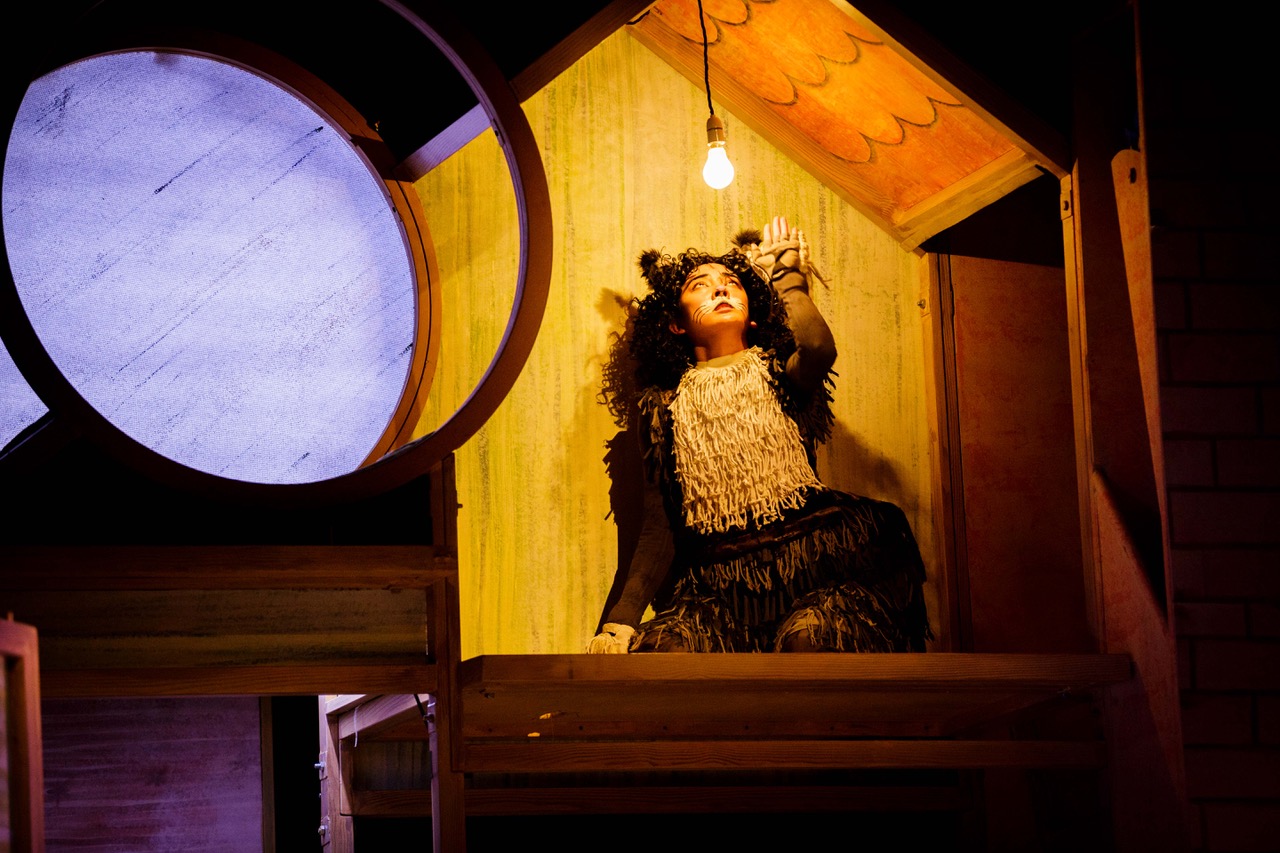 Do you have a favourite part?
I think the trip to the V.E.T is my favourite part. What should be a fairly standard visit to get a sore paw fixed really escalates into a frenzy of dogs, parrots and hamsters chasing Mog about the waiting room creating havoc - and there is a pretty catchy song in there too. Kerry

I love playing Mr Bunce. We use Mr Bunce, and other characters like the Vet and the Policeman, as narrators to link together the stories we are telling and to give the children a familiar presence to follow throughout. It's so joyous having the chance to be that touch point for the kids and is a role I relish. Tom
My favourite part of the show at the moment is when I get to sing a song about how much I love my chair. Ben

What is important to keep in mind when creating a show for families?
I always channel my inner child when making shows for family- I pursue joy and fun in a really active way. I also always think about the ride of the show, when the children might need lots of busy action and when they may need quieter moments and making sure there's lots of clear shifts. Helena
That life is precious and our job is a privilege. Often when working in theatre you can get lost in the idea that you are doing something grand and glamorous. Acting is a privileged position. You are stood on a stage in front of hundreds of people commanding their attention, and that can stoke the ego in many ways. Creating work for families' grounds you in many ways. It helps you to hone in on what is really important. The silliness, the fun, the joy of telling stories and bringing stories to life for people. It is a daily reminder not to take yourself too seriously and to cherish being in the moment and recognising the importance of family, community, creativity and the arts. Tom
What's next for The Wardrobe Ensemble?
The Mog tour runs until July, and after that we've got loads of new ideas that are bubbling away. We've got an adaptation of Babette Cole's Princess Smartypants in the pipeline, as well as a lot of education and engagement work in Bristol (where we're based) and beyond. Hannah
You can catch Mog the Forgetful Cat on our stage from Wed 1 March - Sun 5 March 2023.