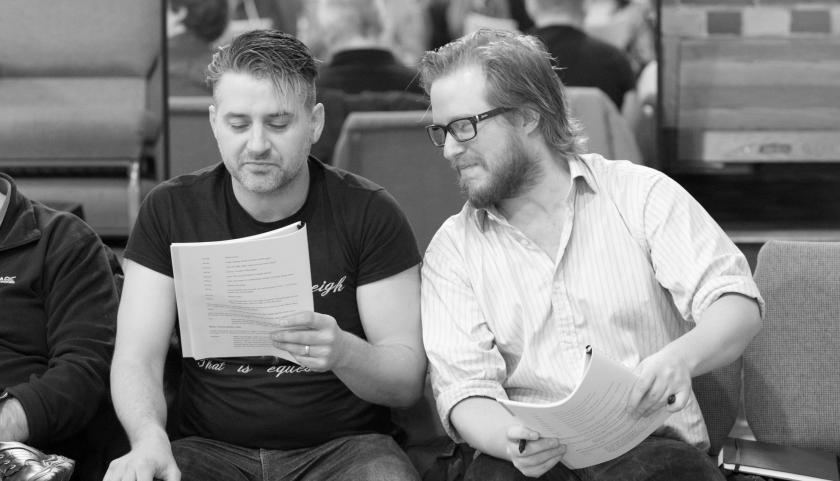 Tuesday 20 November 2018
A Day in the Life of... A Pantomime Writer!

This week we sat down with our pantomime script-writer Al Morley, and picked his brain about all things panto in the first of our A Day in the Life of... blog series! Aladdin is Al's fifth pantomime script, and having worked as a permanent member of Arts Theatre staff for twelve years, it's safe to say he knows his stuff...

Describe your pantomime role in three words?
AM: Writes terrible puns!

At what point in the year does your work on Cambridge Arts Theatre's pantomime really kick in?
AM: The first big push is in the early summer. By this point we will usually have a title and some idea of casting, which is very helpful (well the title obviously - it helps to know what story you're writing!). Then it's writing, rewriting and editing all the way through until the middle of November when rehearsals start.

Picture this - it's a week before opening night and you arrive at the theatre amidst rehearsals. Describe your typical day... 
AM: About a week before the first public performance we do one last full run of the show before going into 'Tech Week' (this is when the hard work really begins as we put the show together on stage with lighting, sound and costumes). It's not unusual for tweaks to the script to happen at this stage, but it's really exciting for the whole company to come together and see what an amazing job the cast has done in the two week rehearsal period. I usually have a good cry and laugh far too loudly at my own jokes.

What's the best and worst parts of working on a pantomime?
AM: The worst part is definitely thinking about Christmas all year round. You think it's hard when crackers go up on the shelves in October? Try writing happy Christmas scenes in the height of summer! The best part is being part of the Cambridge pantomime family and seeing the same old familiar faces every year in the cast, crew and lovely Theatre staff.

Aside from a pantomime writer, what would your dream panto role be?
AM: I'm no actor but I would love to tread the boards just once as an Ugly Sister and spend a season just being really mean to Cinderella - rather than writing her a happy ending!

And one reason why the people of Cambridge should us for Aladdin?
AM: Getting kids into the Theatre at a young age is such a valuable experience that'll stay with them for life - I still remember my first panto! Cambridge Arts Theatre's panto is the biggest and best in the region, if not the country (well I am biased), so what more reason do you need!

Aladdin runs from Thursday 29 November 2018 - Sunday 6 January 2019. For more information and to book tickets, please click here.