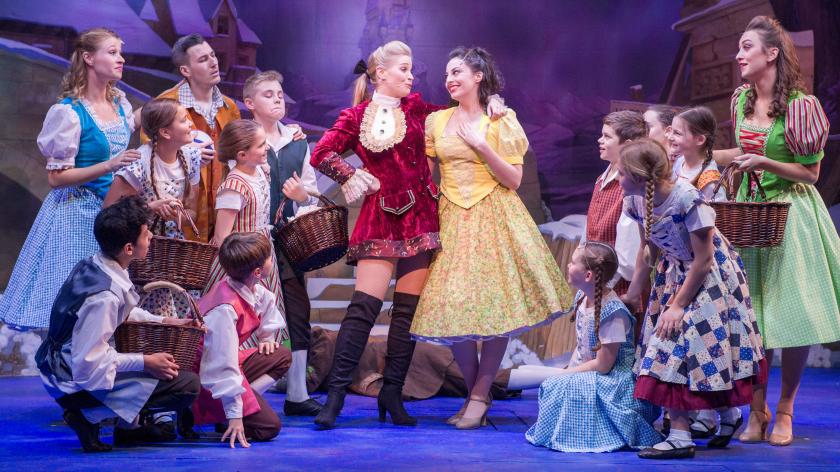 Monday 21 November 2016
Dick Whittington: 10 Things You Didn't Know About Panto!

You might know your HE'S BEHIND YOU's and your OH NO YOU'RE NOT's, and you may well know the difference between the lovable Buttons and dear old Wishee Washee too, but we have gathered some truly festive pantomime facts to broaden your theatrical knowledge this Christmas...

So read on and you'll soon find yourself a certified panto aficionado when you take your seats for Dick Whittington this year. 

P.S. Flaunting new-found pantomime knowledge to adjacent theatre-goers is optional. 

1. The first ever Christmas show on the Cambridge Arts Theatre stage was a production of Alice Through the Looking Glass in 1936, followed by Treasure Island in 1937. After that, we have held a Christmas show or traditional pantomime almost every year since 1940!
2. Most pantomimes include a shimmering fairy and evil villain, right? It is actually panto custom that the fairy always enters from stage right, and the baddie from stage left, a tradition that's evolved from superstition of right signifying Heaven, and left all things Hell, witchy and wicked.
3. Ever noticed that the panto dame is constantly dashing on and off stage? Script writers tend to structure scenes this way in order to showcase her fantastic, bizarre (and numerous!) costumes.
4. Theatre superstition tells us that the last lines of the pantomime finale, which are usually spoken in rhyming couplets, should never be uttered in rehearsals until the opening night, and it is considered bad luck if they are.
5. Principal Boys (think Aladdin, Jack and good old Dick Whittington) tend to be played by women, and the first ever principal boy role was played by an actress called Eliza Povey, who played Jack in Jack and the Beanstalk at Drury Lane in 1819.
6. Lacey, our Theatre Manager, tends to get into the festive spirit rather early, and has the task of selecting pantomime merchandise in August each year!
7. The side-splitting scene in every pantomime where you see your favourite characters (and some of row A!) getting covered in gunge, bubbles or water is professionally known as 'The Slosh Scene'. Over our recent pantomimes, the Slosh Scenes have included wallpaper paste, soap from a laundrette and even an ice cream van. 
8. The first time Dick Whittington and his Cat was performed on our stage was over 70 years ago in the year 1940.
9. The madness never ends... Every January after the pantomime finishes, our theatre team only have one month to recuperate before the next panto is selected and scheduled in February.

10. The brilliant cast of Dick Whittington and his Cat will perform to the people of Cambridge a whopping 64 times this Christmas!


Dick Whittington and his Cat runs from Thursday 1 December 2016 - Sunday 8 January 2017. For more information and to book tickets, please click here.