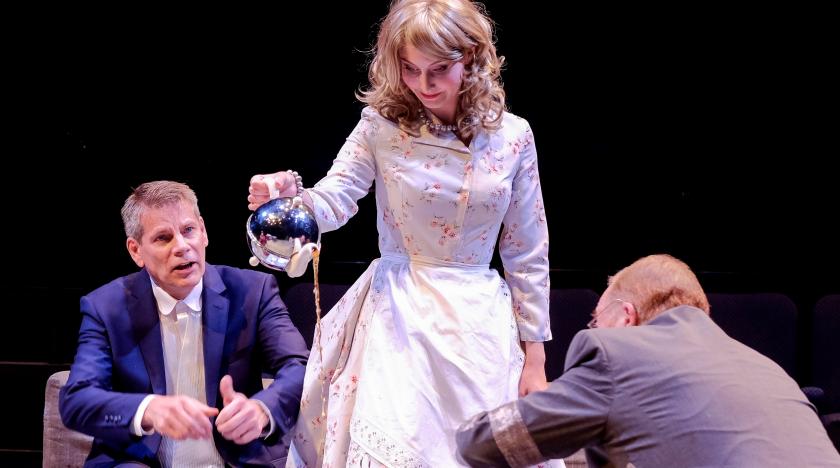 Thursday 9 February 2017
Henceforward...: 1987's futuristic comedy: an Interview with Alan Ayckbourn
The work of Alan Ayckbourn, the acclaimed playwright who has written over seventy plays, is soon returning to our stage with the laugh-out-loud futuristic comedy Henceforward... (Wed 22 - Sat 25 Feb). Alan Ayckbourn chatted to Simon Murgatroyd about his play and the difficulty of producing a production that was deemed futuristic in 1987... in 2017! 

Henceforward… is this year's Ayckbourn revival at the Stephen Joseph Theatre, tell us a little about the play.
AA: Henceforward… is about the nature of creativity. It's about a composer, Jerome, in a dysfunctional near-future. He has reached crisis point, where he no longer has access to his artistic muse; he believes his only way forward as a composer is through his daughter Geain. Jerome is trying to win Geain back from his wife – who long ago left with Geain – and in order to win her back, he goes to some extraordinary lengths!
You obviously believe it has relevance to today's audiences.
I think it is still relevant today! Jerome records everything and uses it for his music. He has recorded every single thing his wife and daughter did before they left him, put them into a computer and then used it for his music. So they had no personal privacy – even in the bathroom and certainly not in the bedroom!
The most popular question I get asked is, 'where do you get your ideas from?' It's from the people I live with and who are around me. I don't think I am as blatant as Jerome, because he is completely committed to his artistic ambitions. But how artists create and the lengths they go to is as relevant today as ever.
Why did you decide to make Jerome a composer rather than, say, a writer?
It had to be a composer as they are visually more interesting to watch – watching a writer struggling over a notepad is hardly entertaining! Writing the character of a composer allowed me to plausibly show an act of creativity on stage.
It's also your first play in the science fiction genre and introduced us to the first of your many androids.
It is one of my 1980s sci-fi dramas and my earliest brush with pre-Comic Potential androids! The one here, NAN, is even more of a dysfunctional android than those which follow – which is saying something!
How has the advance in technology affected the play?
When I wrote Henceforward… the advance in technology seemed way into the future, for example androids! Now robots can walk and talk. Bizarrely, it's the little ideas from the play that we haven't got round to; I don't think there's a self-cooking meal out there yet! Although future technology was anticipated in the original 1987 performance, technology has certainly moved on since then, so I've moved it on further for the revival.
For a play so interested in technology, how do you think technology has changed since it was written?
I think as a race, we generally take one step forward, one step sideways and two steps backwards! So there is never a tremendous sense of progression. There was a moment in the 1980s when it seemed the sky was the limit; men had gone to the moon and at the speed technology was advancing, we were going to be on Saturn within a fortnight and then everything slowed down tremendously; yet other things like computers have progressed beyond belief. So who can tell?
It's also the first of your plays to tackle the increasingly relevant question of what it is to be human.
Jerome is, I think, a man possessed. He is willing to carry his obsession to the nth degree – I suspect we all have moments like that, but our own humanity clicks in. Jerome carries with him the seeds of his own self-destruction and would seriously consider completely sacrificing his personal life to write the perfect piece of music.
One of my favourite moments in the play, and which begins a recurring theme of humanity vs technology, is where Jerome's wife says: 'For God's sake, explain to your daughter why she would live with a machine and why it's better to be with living beings.' And Jerome says, 'I can't think of a single reason.' That is as pertinent as ever today.

Henceforward... is on our stage Wednesday 22 - Saturday 25 February. For more information and to book tickets, click here.