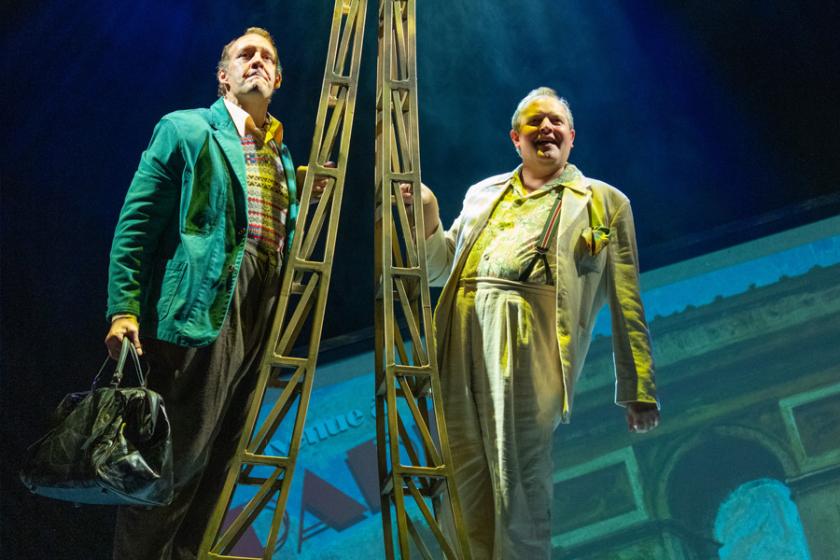 Friday 13 January 2023
An Interview with Miles Jupp and Justin Edwards: Why Audiences Love The Lavender Hill Mob

This week, we have The Lavender Hill Mob touring to our theatre.
The Lavender Hill Mob is the world-premiere adaptation of the 1950s Ealing comedy of the same name – ranked in the top 20 best British films of all time by BFI. It tells the story of Henry Holland, an unassuming bank clerk who dreams of stealing the van full of gold bullion he drives across London each day. When Henry learns that his new lodger makes Eiffel Tower paperweights out of lead, he devises a plan to make his dream a reality.
Ahead of its opening night on Monday 16 January, writer Phil Porter alongside stars Miles Jupp and Justin Edwards answered some questions about touring, Cambridge, and what audiences can expect from the show...
How would you sum up your respective characters and their role in the story?
Miles: Henry Holland is a fastidious guy and a planner, a sort of details man, but he becomes restless and ultimately uses his attention to detail for nefarious means - namely a bank robbery. He's a lot of fun to play, especially if you like lots of words, which I do.
Justin: Alfred Pendlebury is an artist who aspires to greater things but who has ended up making tat - souvenirs and that kind of thing - which he feels is a bit beneath him. Then when he meets up with this man who has a plan to raid the Bank of England and steal a million pounds' worth of gold bullion he jumps at it. They're both single men in post-war Britain, stuck in dead-end jobs, staying in a cheap boarding house in Lavender Hill and thinking 'this is what life is gonna be now', so naturally they seize on this life-changing experience.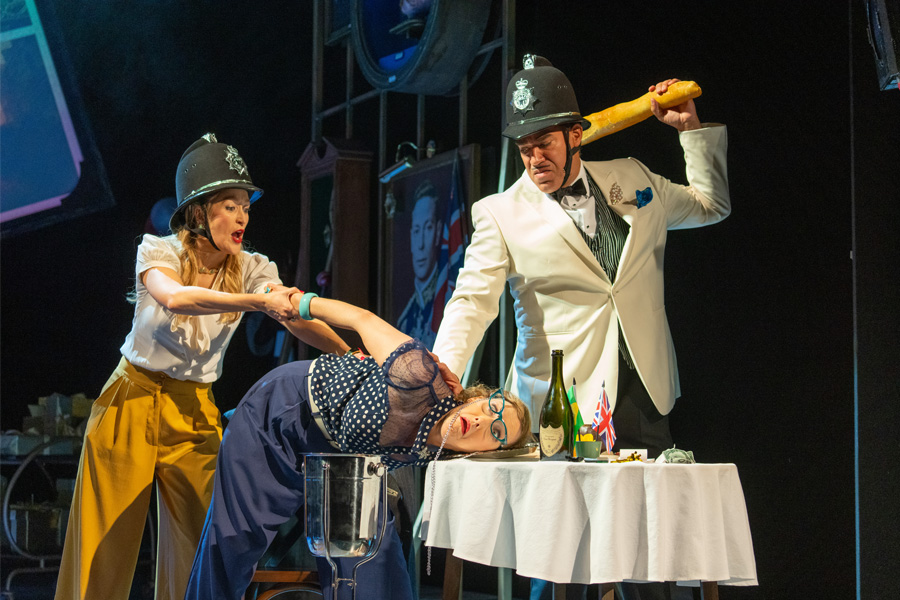 Why do you think The Lavender Hill Mob continues to captivate audiences?
Justin: It's slightly daft and it's resolutely set when it's set, so you couldn't really update it. What's nice is that it takes people back to post-war Britain, when things were a bit bleak but there were glimmers of 'is the world going to be a better place and how will we manage after the country has been depleted?' It's also nice to see a little man like Henry Holland, who is this unassuming clerk, become a criminal mastermind.
Miles: Again, it's the heist element that appeals to people and the idea of good guys doing bad things. It's not a story that starts with somebody being released from prison and deciding what the next job is; it's about somebody who has had a responsible job for 20 years, then decides it's time for some adventure. There's a slight everyman aspect to it and setting it in the 1950s makes it escapism.
Do you have a favourite moment in the production?
Phil: I have lots of favourite moments! There is a very exciting design-based coup-de-theatre in the second half, when the characters arrive in Paris, that I will never tire of watching. The section of the story that takes place in France is probably my favourite overall, but of course I'm very fond of all of it.
What have you most enjoyed about taking the show around the country so far?
Justin: It's such a fun job and it's a lovely ensemble company of actors. You're in a different theatre every week, the acoustics are different, the sightlines are different and you have to rejig things as you go, restaging things for different venues. It keeps it fresh, as opposed to when you're doing the same play in the same place for months on end. It feels like a different show every week and it's been lovely seeing different parts of the country post-lockdown opening up again.
Miles: I like theatres and although it's nice to go back to places that you already know I do like the idea of turning up somewhere you've never been to before, going to the theatre and there being an audience for you. The first time I did a stand-up tour that anybody came to see, around 2011, I remember turning up to a theatre in Swindon and there were 170 people there to see me on a Monday night. I just thought 'wow, that's amazing, I don't know anyone in Swindon and here's 170 people who have come to hear me talk'. I still get that feeling now.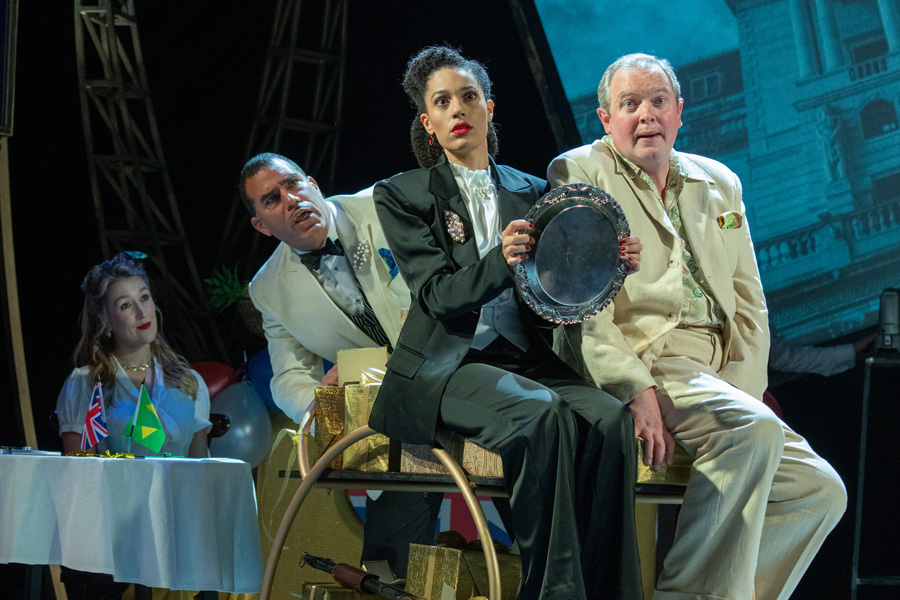 The tour calls at Cambridge Arts Theatre. Does it have any significance for you?
Miles: I've spent quite a lot of time in Cambridge over the years. I've done quite a few different venues there and I had some larks in Cambridge as a teenager. It's a nice venue in a really fun town with lots of proper pubs.
Justin: I think I've only been to Cambridge once in my life so that will be fun. I always try to get out and see things, especially in places like Cambridge where there's lots to see and do when you have a bit of time off during the day.
What are audiences in store for when they come see the show?
Justin: It's a very enjoyable romp and a nice escapist bit of storytelling. It's not a knockabout farce as such because Ealing comedies are quite gentle, so I'd say it's gentle escapist fun. It's not political and no parallels are drawn with modern society or anything terribly clever like that. Audiences so far have reacted really positively to it.
Miles: I'd describe it as a caper. It makes for a really fun evening, or an afternoon if you're a matinee person. There's a mixture of people who come along to see it. There's the people who always go to the theatre, of course, plus others who are fans of the film and those who are attracted by the idea of it, so it's a nice blend and the audiences have been lovely.
Is there anything in particular about this story from post-war Britain that is particularly relevant for audiences now?
Phil: I could construct an argument for the contemporary relevance of a story set in the post-war austerity era, or claim that this story of two Brits coming a cropper on the continent shines new light on Brexit Britain. But in truth, the main reason to come and see this play is that it is very good fun. After the last couple of years or so I think we all deserve a laugh!
You can see The Lavender Hill Mob from Monday 16 – Saturday 21 January at Cambridge Arts Theatre. If you want to read more about the show or book tickets, you can do so here.