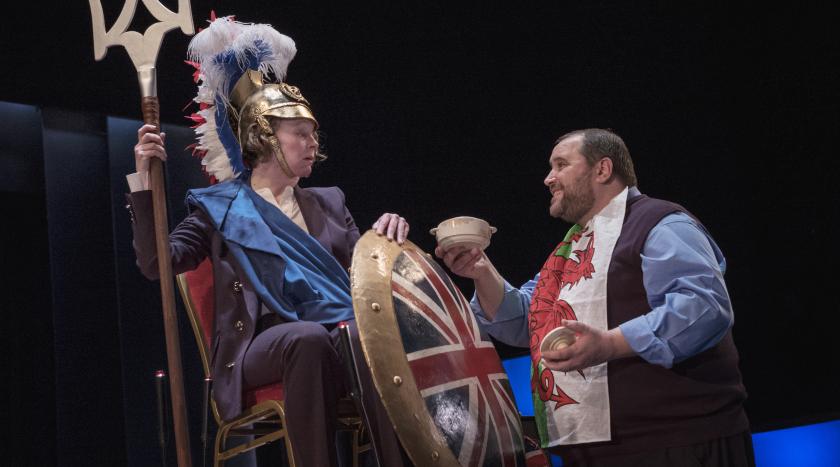 Friday 19 May 2017
My Country: 5 Minutes with National Theatre's Rufus Norris

Whatever your political viewpoint, the Brexit vote divided the nation and is at the utmost forefront of our daily lives. Following the EU Referendum last year, a team from the National Theatre began a nationwide listening project and interviewed people (aged 9 to 97!) to hear their honest, emotional, funny and sometimes extreme opinions on the country we call home. Those interviews have been transformed into a timely new play, My Country.

Director Rufus Norris (Artistic Director of the National Theatre), writer and Poet Laureate Carol Ann Duffy and the cast of My Country have sat down to discuss putting together such a politically current production at such a critical point in the UK's history. 

How did you choose what extracts of the interviews to use? Did you have an idea of the type of extracts or the tone, or was it about capturing a range of opinions?
Carol Ann Duffy (Writer & Poet Laureate): What came through strongest were human stories, their journey to voting. So rather than statistics or political language, we heard voices that had lives, regardless of how they voted.
Rufus Norris (Director): Then it was about finding a structure. The simplest thing was to follow events, from when Cameron announced the referendum, through to the discussion and heated debate that followed.

Did the interviews change what you and the cast felt about Brexit?
Clarke Cavan (plays Northern Ireland): What's great is that we get given these recordings and it's someone telling their life story and you really fall in, you learn to love them in a way. Then an opinion will be expressed that you disagree with, but you see where they're coming from because you've listened - I think it broadened my horizons. No one was listening to each other at the start of Brexit, but with this you have to and that forces you to take in more of someone's life, which is really useful. 
Christian Patterson (plays Cmryu): For me it's led to more of an explanation of why Brexit went the way it did. 

Why did you choose to divide the verbatim theatre geographically?
RN: The genesis of the project was asking people to travel around the country, so therefore we literally had people dotted around the country gathering voices.

What do you want audiences to take away from the production? Do you want it to be hopeful, inspire people or make them listen more?
Penny Layden (plays Britania): I think that is the hope. We hope that people take away an understanding that they have a voice, or realise that we need to listen to each other. It's about listening and hearing.

Do you think there would've been a need for this production had the vote gone the other way?
RN: Very good question, there would've been a need for it. Whether we would've done the production or whether anyone would've been interested in seeing it would be another question.

Given your emphasis on giving a voice to everyone, what choices were made in terms of diversity?
RN: What was really important was that actors came from different regions. 
CC: With us being from the regions we're representing we carry a life's worth of knowledge of that place and its voices. 
Stuart McGuarrie (plays Caledonia): Going out and getting the conversations was fascinating, but I was worried about truly representing 'the people'. I thought I knew how everyone should've voted and I couldn't understand the people who voted the opposite, but listening to them I was very moved by their individual stories.

And finally, do you think it's important to produce political plays and keep the conversation going?
RN: Yes! Theatre is very important to be part of a national debate and to tell stories in order to help people understand themselves, their communities and certain issues. What we're doing is trying to make the National Theatre's programme more resonant and talk to our broader constituencies.

My Country is on our stage Monday 12 - Saturday 17 June 2017. For more information click here.