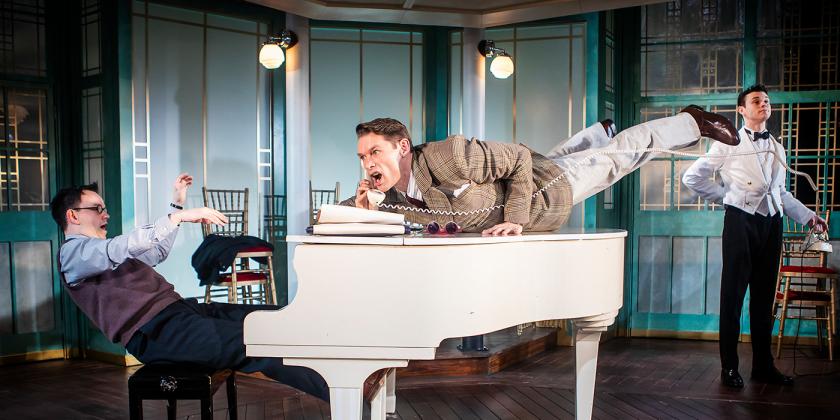 Friday 29 March 2019
Rough Crossing: 5 Minutes with John Partridge!

All aboard! Star of EastEnders and recent winner on MasterChef John Partridge is preparing to visit Cambridge Arts Theatre once again as he takes to the stage in Tom Stoppard's highly entertaining and downright absurd comedy Rough Crossing. 

We stole 5 minutes of John's time to hear all about the show, and picked his brain about life after Masterchef...

What's Rough Crossing about?
JP: I like to call it an 'undiscovered Stoppard'! It was first performed in 1984 and hasn't really been done since. It's set on an ocean liner travelling from Southampton to New York. The character I play, Sandor Turai, is finishing writing a play with Alex Gal. Then we hit some rough rater! 

It's a comedy and it's very funny... There is a lot of physical comedy too. There is also a little singing and maybe even tap dancing! I've really enjoyed putting this together.

What is your character Sandor Turai like? 
JP: It's a huge role for me and a great character, he's flamboyant, serious, aggressive, kind - I go from Oscar Wilde to Jack Nicholson in the space of 5 seconds! I also get to be physical, I get to dance, I get to sing - it's like all my dreams came true in a Stoppard!

What is most exciting about touring this show?
JP: Taking a brilliant play on tour that hasn't been seen much - it feels exciting, it feels fresh. I'm excited to see what the reaction to it will be. I am really looking forward to see if the audience thinks it's as funny as we do!

What makes theatre special?
JP: It's one of the few activities you can do together these days. We're so focused on our tablets and phones, with theatre you come together and collectively enjoy something. I always find that powerful and uplifting. 

How do you look back on your time playing Christian in EastEnders?
JP: I'm very fond of Christian and very grateful to him. Without him I wouldn't have the opportunities I have now. I'm always asked "Will you go back?", but I think Christian's very happy in Birmingham living an idyllic life with Syed and long may he do so. 

And have the Rough Crossing cast been taking advantage of having a Celebrity Masterchef winner on the team?
JP: In rehearsals we had a breakfast club in the morning to do our lines, I brought banana cookies or a flourless chocolate cake. Masterchef defined where I was in my life at that time, I don't want to say that it was life changing, but it certainly helped me. Cooking food from my past helped me to live in my present. My food career is something that will run alongside my acting career from now on, I am constantly cooking for everyone... but I love it.

Rough Crossing is on our stage Monday 8 - Saturday 13 April. For more information and to book tickets, please click here.