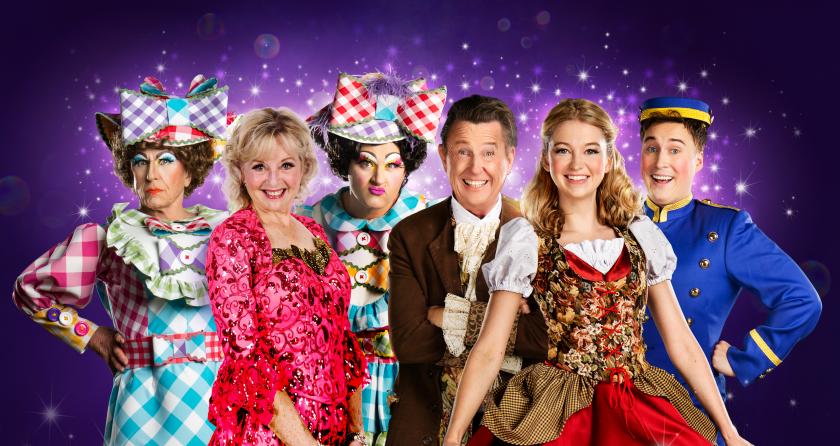 Friday 13 December 2019
Supporter's Circle guest blog: Pantomime for everyone *Oh yes it is!*

Is the Pantomime for everyone? Oh yes, it is!
One of our dedicated audience members and Arts Theatre Supporter, Paul Taylor, tells us why this time of year is his favourite time to visit the Theatre.
 
"It was a school trip to the pantomime that gave me my very first experience of theatre. I saw a magical world, inhabited by a parade of strange people and things, and I had absolutely no idea what was going on. There were lights and bright costumes, people falling over… but none of that stopped me from joining in with everybody else. "He's behind you!" we shouted. And then, as the characters onstage denied it, "Oh yes, he is!".
Looking back now, I remember the magic and the feeling of involvement, the two emotions that keep me coming back to the pantomime every year. We know the characters, we know the stories, we know the traditions – and we come to take part in it all together. It may be escapism (and there's enough in the world we want to escape!), but it's collective escapism. Across ages and communities, we come together in laughter at the outsize antics onstage and wait eagerly for our chance to join in: "He's behind you!". 
The cast and crew are already working on Cinderella, making sure the production is the very best it can be. At the Arts Theatre, there's another team at work, too, and they're trying to make sure that the pantomime really is for everyone. Thanks to the Arts Theatre staff, there's a relaxed performance, a performance with a sign language interpreter, and one with audio description. And then there's Panto Wheels. Panto Wheels is run by Cambridge Arts Theatre Trust Ltd – the charity behind the Theatre – and each year, it helps children from disadvantaged backgrounds come to the pantomime by subsidising the cost of travel and tickets. Last year, the scheme helped 4,300 children, and this year they're hoping to increase the amount of benefited schools. 
I'm one of the Supporters of the Arts Theatre, and it's things like Panto Wheels that make me proud to be involved. The Theatre puts on shows of the highest quality right here in Cambridge, and that alone would be worth supporting. But it's also part of the Cambridge community, working hard through partnerships with schools and many other organisations, and developing audiences through schemes like Panto Wheels, to keep inspiring and engaging audiences of all ages. I'll be supporting them to achieve their goal this year; if you can, I hope perhaps you will, too. Let's help as many children as possible join us at Cinderella's ball!"
To find out how you can support the Arts Theatre, click here.
Click here to read more about Panto Wheels and how you can support more children have an unforgettable experience this Christmas.