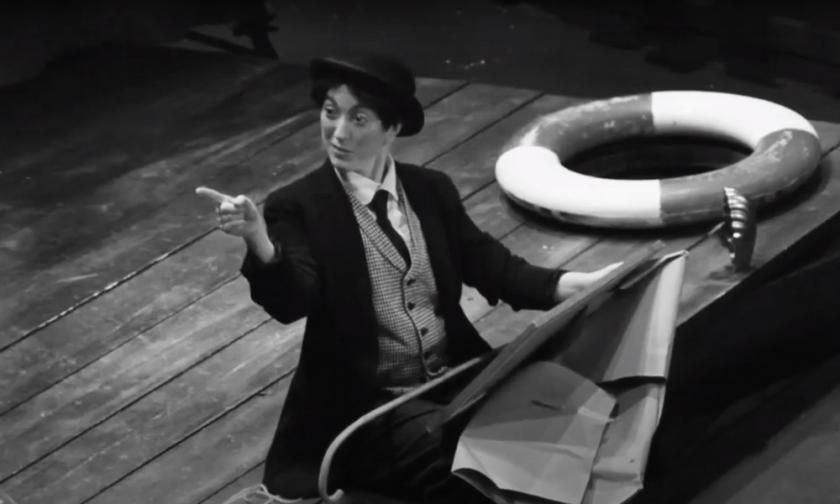 Friday 17 September 2021
Who were Charlie Chaplin and Stan Laurel?
All of us at the Arts Theatre are thrilled to welcome Charlie and Stan to our theatre next week. To get ready for the roaringly hilarious portrayals of Charlie Chaplin and Stan Laurel, we thought we'd have a look back at what made them the comedy legends we know and love...
---
The Mirror Maze – The Circus (1928)
Charlie Chaplin is widely regarded as one of the greatest comedians on screen, and a legend in the history of motion pictures. His famous screen altar-ego The Little Tramp was first shown in 1914. The Circus is a great example of The Little Tramp in action. Written, produced and directed by Chaplin himself, this film has been voted by many to be one of the best in Charlie Chaplin's repertoire, often due to his excellent comic timing and brilliant physical. This Mirror Maze scene is a great example of his subtle yet effective comedy, as he hides from the policeman's view by acting as an animatronic. Chaplin won a special award at the Oscars for writing, directing and acting in The Circus – check out the clip below to see why.
https://www.youtube.com/watch?v=G09dfRrUxUM
---
The Barbershop – The Great Dictator (1940)
The Great Dictator is perhaps one of Chaplin's most popular films. Released in 1940, it is a satirical take on Hitler and the Nazi party in Germany. It stirred a lot of condemnation toward the Nazis, at a time when the USA were still at peace with Germany, making the film quite controversial. However, it was the most successful commercial film for Chaplin, and praised as an important work of satire. On top of his political angle though, Chaplin still boasts his excellent comedic timing, especially in the clip below at The Barbershop, choreographed to Brahm's Hungarian Dance.
https://www.youtube.com/watch?v=H19jByxrqlw
---
Roller Skating – Modern Times (1936)
Modern Times is remembered fondly as one of Chaplin's greatest achievements, suggested to be a commentary on technology and a changing modern society. It marked the final screen appearance of The Little Tramp, and featured Paulette Goddard as his companion. While the film marks how far the world had advanced since Chaplin first began making movies in 1914, it still encapsulates his talents, such as his subtle and detailed choreography. Take a look at him as a natural entertainer in this Roller Skating scene:
https://www.youtube.com/watch?v=kPcEFHA3X0c
---
Busy Bodies (1933)
Before becoming half of the enormously funny double act, Laurel and Hardy, Stan Laurel was a part of Fred Karno's touring troupe in the US with Charlie Chaplin. He originally played an understudy to Chaplin, but soon rose to stardom with Oliver Hardy, in a comedy duo known by many to be the greatest in film history. Like Chaplin, they also began working on silent short films as individuals, but unlike Chaplin, many of their most famous films together are 'talkies'. This clip from Busy Bodies in 1933, however, is a fantastic example of their slapstick comedy:
https://www.youtube.com/watch?v=VdcP2CyCbl4
---
Come Clean (1931) 
Another example of the humour created with the on-screen relationship between Laurel and Hardy can be seen in this simple scene where The Boys go to fetch ice cream in Come Clean. The off-screen relationship between the two was similarly close – they spent over 30 years working side by side, and when Oliver Hardy died in 1957, Laurel refused to perform again without him. 
https://www.youtube.com/watch?v=pE8LVWsmMT0
---
Block Heads (1938)
This next clip is from one of the duo's most successful feature length films. It came at a particularly difficult time in their filmmaking career, as Laurel was not on good terms with the producer, Hal Roach; it would be the final film they would make together. Despite this, there are many examples of comedy genius, and Laurel's comedic character particularly shines through in this scene, where Hardy finds him in an army hospital twenty years after the First World War (no one had told Laurel the war was over):
https://www.youtube.com/watch?v=wIbeGQp0cm4
---
Charlie and Stan is coming to Cambridge on Monday 20 – Saturday 25 September. Book your tickets now!