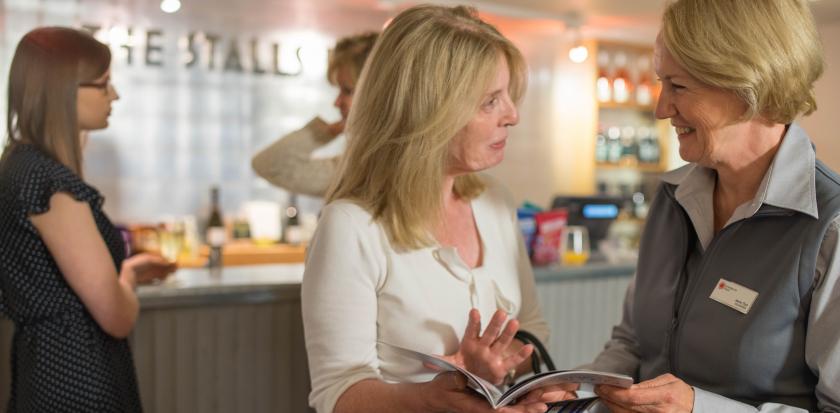 Tuesday 6 June 2017
Why volunteer at the Arts Theatre? Volunteers' Week 2017!

1-7 June marks National Volunteers' Week, an annual event celebrating the difference volunteers make across the country, and to say thank you for their commitment, we wanted to dedicate a blog post just to them! 

Cambridge Arts Theatre has over 50 volunteers, whose responsibilities include welcoming customers to the building, selling programmes and showing people to their seats. We wouldn't be able to function day-to-day without our enthusiastic band of volunteers, we are incredibly grateful and the theatre benefits enormously from their hard work. 

We asked our volunteers why they chose to volunteer at Cambridge Arts Theatre, and their most enjoyable part of their role... Here's what they said! 
"I choose to volunteer to meet new people and to give something back to the theatre, which I love" Pat
"What a wonderful, rewarding role! The Arts is small, personal and intimate, and being involved in this happy positive environment with members of the public enjoying themselves, and with a team I am very proud to be working with" Jenny
"Volunteering at the theatre is a joy. Being in the foyer before a show, welcoming theatregoers full of excitement and expectation is exhilarating. Sharing this gives one a real buzz!" Sha
"When I saw the advert for volunteers I jumped at the chance to help support this wonderful theatre" Catherine
"It's my way of helping secure the future of Cambridge Arts Theatre... It's fun being part of a team of theatre enthusiasts, and the pantomime Relaxed Performance marks the start of Christmas for me" Sally
"What a great way to get out and meet people, both our customers and those in the team" John
"When the lights go up and you can feel the audience is leaving on a high, and at other times they leave quietly with tears in their eyes. Sometimes people will stop and tell you how much they've been entertained, moved or had their perceptions challenged. I feel very lucky to contribute even in a small way to all of that" Judith
"The absolute best thing is the people! The staff and volunteers are lovely, and I've met some great characters. What could be better than spending an evening helping people who share your love of theatre?" Alison
"Retirement gave me the chance to do many of the things I hadn't had time for. I loved going to the theatre and meeting people, so volunteering at the Arts wrapped both together so well" Celia
"I love theatre and it seemed like a good way to see more and meet new people, and I wanted to see if I could offer something of benefit in return... I almost always head home after a shift feeling full of energy and enthusiasm, even if I've spilled leftover cold coffee, melted ice cream or sticky sweets down myself during the post-show clear up!" Su 
If you are interested in volunteering, or finding out more about the role, please click here for more information.