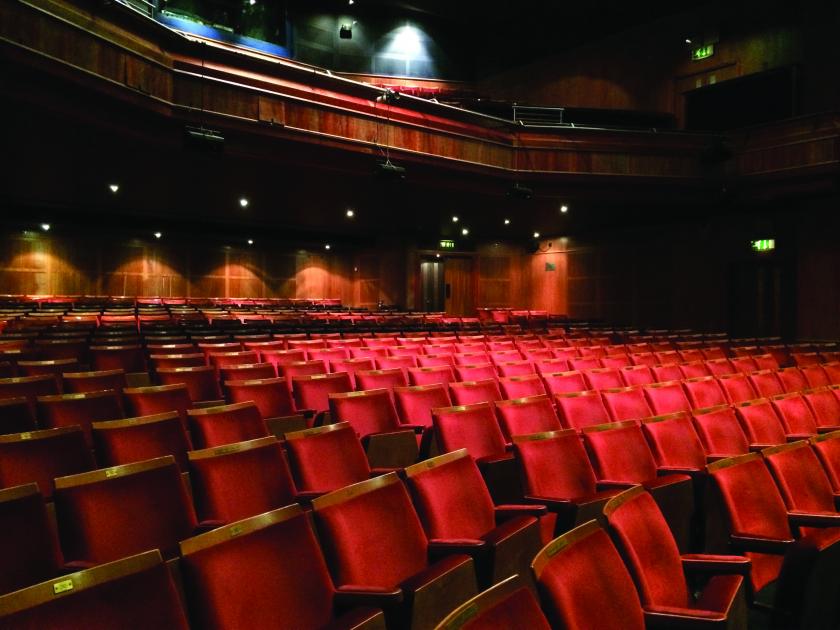 Friday 10 February 2017
Work Experience: Eddie Saunders' week at Cambridge Arts Theatre

Hi. My name is Eddie, a 16 year old student and I have completed a week's Work Experience at Cambridge Arts Theatre. I travelled all the way from Gloucestershire for the week, as I struggled to find a placement at a local theatre that offered such an extensive program. I wanted to experience behind-the-scenes of a theatre to gain a better insight into the industry, and that was certainly what I got! Here's a brief overview of my week…
Monday – My first day, I looked the part of the Work Experience student – a rabbit caught in headlights! I was working with the Technical department, and it was amazing seeing all the pulleys, lights, props, and pieces of set as we got the stage set up for this week's show – The Marlowe Society's production of Edward II. I also sat in on dress rehearsals, and saw how the Technical team set up the lighting and sound design. Very cool stuff.
Tuesday – My second day: a little more confident as I walked into the foyer. I was working with Victoria on Education. I helped draft a schedule for the theatre's February Half Term Workshops, and researched how to get local schools involved in the theatre. I then moved onto Finance, where I got an overview on theatre budgets and where the theatre's income goes. I found this very interesting and valuable, if I look to work in a theatre one day. Day 2 done!
Wednesday – Mid-week and feeling more comfortable and getting to know everyone – they're all so bubbly! In the morning I was at Stage Door – so many theatre keys! Then, after lunch, I worked on Box Office. I really enjoyed this, I experienced face-to-face interaction with customers and got to learn about the entire booking process. I really got a feel for the environment of Box Office, great stuff.
Thursday – In the morning I was with Chloe, who works in Programming. I learnt about the process of selecting and booking upcoming shows, and how the theatre's seasonal programme is created. I also learnt about the recruitment process for Panto, and some valuable hints on what it involves. Very useful for an aspiring actor like myself! In the afternoon I worked Front of House for the matinee performance, which I had been looking forward to all week! I got my own uniform, gilet and everything! It was my job to welcome customers to the theatre and sell programmes. I felt very much part of the team, and this gave me an amazing snapshot of the working theatre life. I loved it, it was definitely the highlight of my week!
Friday – The last day of my placement, and I had only just got to grips with the maze of corridors and stairways! In the morning, I worked in the Development department, where I researched alumni of the theatre – armed with lots of tea! Lots and lots of tea this week. Then, for my final placement, I worked with the Marketing team. I analysed and researched two upcoming shows (Invincible and Fantastic Mr Fox - buy your tickets now!), before moving on to writing my very own blog post, which you are now reading.
So, that was my week! A whirlwind of activities and departments as I rushed around learning about Cambridge Arts Theatre. I have loved it, every minute confirming that this is the career I want to pursue. Finally, I'd like to thank everyone who has given up their time to help me learn about what you do, it is much appreciated!

Cambridge Arts Theatre offers one-week Work Experience placements throughout the year to students aged 14-18. Please click here for more information.