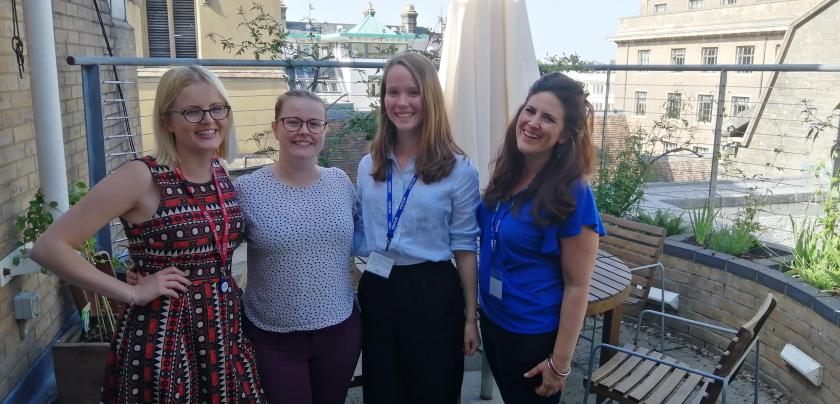 Tuesday 2 July 2019
Work Experience: Emily Bowen's week at Cambridge Arts Theatre

My name is Emily Bowen, and I'm a 16 year old student from Cambridge who has now completed a week's work experience at Cambridge Arts Theatre. For me, the attraction was in discovering how a regional theatre works – particularly backstage working with the lights and sound! I can now honestly say I have a better insight of how the industry works, from programming the shows to when they are performed on the stage. Here's a quick look at what I've been up to this week:

Monday – My first day at the Theatre, it goes without saying that nerves were high. As I arrived at Stage Door, was given my pass and taken upstairs to the offices I soon realised there was nothing to worry about. Greeted with a positive and jolly atmosphere I instantly felt more comfortable in the placement. Throughout the day I received a tour of the Theatre, put up a promotional display at the local library for We're Going on a Bear Hunt and learnt about how shows are programmed into the Theatre's programme every season. I also began compiling resources for Education Packs for the upcoming pantomime – a job that lasted me all week!

Tuesday – I spent the morning in the Development department learning how the team fundraise for the Theatre's future, and and how important the Supporter's Circle membership scheme is, gaining a greater appreciation for all that the Theatre offers. I helped prepare a mailing to individuals who may donate to the Theatre to fund its maintenance and development. In the afternoon I worked in Box Office, using the ticketing software to book customer's tickets and preparing people's tickets for upcoming shows to be posted. I also learnt more about the marketing of shows, increasing my knowledge of the Theatre industry once again.

Wednesday – Halfway through the week and still so much to learn! Today I was at the Stage Door, the first point of contact for customers visiting the theatre. We showed a contractor round the building, giving me another backstage tour! I then went back to Box Office and booked tickets for customers in person and over the phone and learnt about the Theatre's ticket policy, which was a lot of fun. Finance was next, where I learnt about which ticket sales and budgets. Money was the theme of the afternoon as I then spent some time back in Development researching other charities and how they fundraise. 

Thursday – This was the day I had been looking forward to – backstage! I helped the Technical crew colour the lights with gels whilst also receiving another tour! Seeing the hidden parts of the Theatre nobody else even knew existed was incredible. I helped set the lights for that evening's performance of An Evening of Eric and Ern, which was amazing! Working with someone from a professional company was an experience I will never forget – as well as the tips I got for lights and sound. Exploring the Theatre and working with the Technical team was definitely a highlight of my week at the Arts Theatre, and an experience I would recommend highly! 

Friday – My last day of Work Experience. It started off with helping to prep for a Primary School that was coming later that morning for a Workshop and Tour; bagging costumes and writing a quiz. I then had the pleasure of joining the tour and teaching the children about the Theatre! Afterwards I had a session on sales and marketing, focusing on sales targets, budgeting and customer experience. I then ended my time at Cambridge Arts Theatre by helping Front of House department and Volunteers. In particular I was selling programmes and checking that the audiences' bags met the Bag Policy for performances. I then stayed to watch the performance of An Evening of Eric and Ern which was the cherry on top of one delicious cake!

If I had to describe this week in three words, they would be tea, cake and amazement. Learning more about the Theatre has been incredible, and the atmosphere at Cambridge Arts Theatre is one unlike anywhere else. There is not one moment of my week that I didn't enjoy, and I would do it all again in an instant! I would like to thank all the staff who gave up time this past week to teach me about the theatre, and made my week one full of laughter, smiles and delicious brownies! I have come away with a bucket load of knowledge on what it takes to run a theatre, and couldn't recommend this experience enough.