Murderess, seducer, thief, enchantress - or merely a woman intent on survival?
Alluring, exotic and unconventional, Countess Rachel Sangalletti travels from Florence to the Ashley Estate in Cornwall, home of her recently deceased husband. Her presence in the house arouses dark suspicions and uncontrollable desires, not least in young Philip, cousin and heir to the Ashley home. 
Feverish passion battles reason in this classic Gothic romance set in the wild landscape of the rock-ribbed Cornish coast.  
Helen George plays the deliciously enigmatic Rachel. Known for her role as Trixie Franklin in eight series of Call the Midwife, her recent stage credits include After Miss Julie and Love In Idleness.
Anthony Banks was Associate Director at the National Theatre from 2004 – 2014. His many directing credits include The Girl on the Train, Strangers On A Train, Twilight Song, Gaslight, and After Miss Julie.
This menacing psychological thriller by the author of Rebecca and Don't Look Now, enthralled readers when it was first published in 1951 and went on to become an international best seller. This acclaimed adaptation is by Joseph O'Connor whose novels include the international number one best-seller, Star of the Sea.
Tickets
Monday - Saturday, 7.45pm
and Saturday, 2.30pm: £25/£35/£40/£45*
Thursday, 2.30pm: £25/£35/£40*

*All ticket prices include a £3 per-ticket booking fee.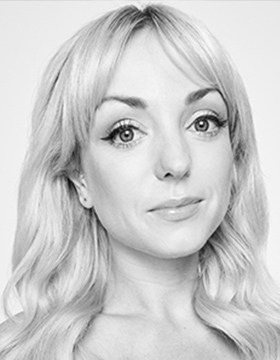 Helen George (Rachel)
Helen George is best known for starring in the lead role of Trixie Franklin in the BAFTA-winning BBC One series Call the Midwife.

She has received critical acclaim for her varied stage credits, including Trevor Nunn's revival of Terence Rattigan's Love in Idleness and in the title role of Patrick Marber's After Miss Julie, also directed by Anthony Banks.
Joseph O'Connor (Script adapter)