BOOK WITH CONFIDENCE
Your safety is important to us and we've been working hard to make sure that our Theatre is safe for everyone. This important guide outlines all the information you will need to make your visit both safe and enjoyable. We also reserve the right to update this guide in line with changes to Government guidelines, advice or regulations.
We are delighted to be recognised as one of the official SEE IT SAFELY venues, accredited by the Society of London Theatre and UK Theatre. The logo certifies that theatres are complying with the latest Government and industry COVID-19 guidelines, to ensure the safety of both staff and audiences.

We have also been accredited with the We're Good to Go industry standard from VisitEngland. The logo provides a 'ring of confidence' for businesses, attractions and destinations as well as reassurance to visitors that clear processes are in place and that the business is good to go.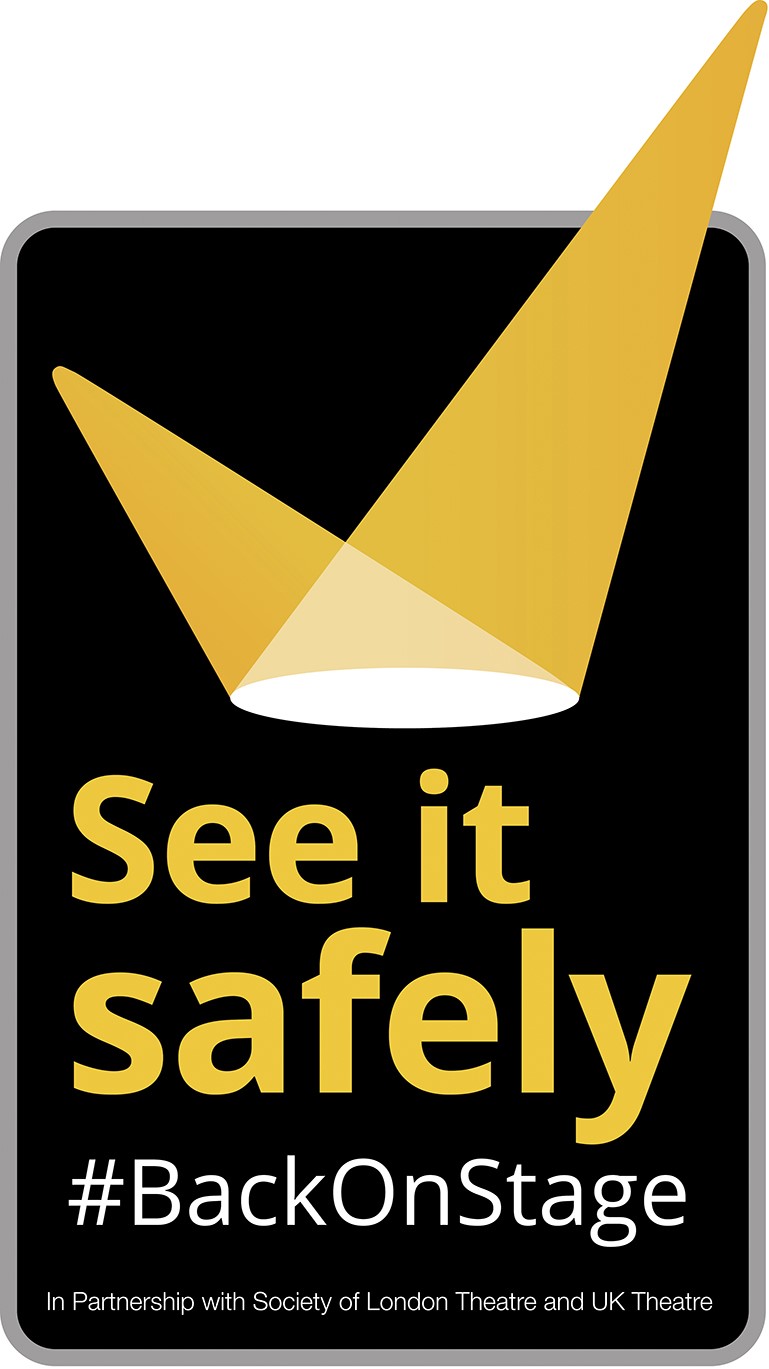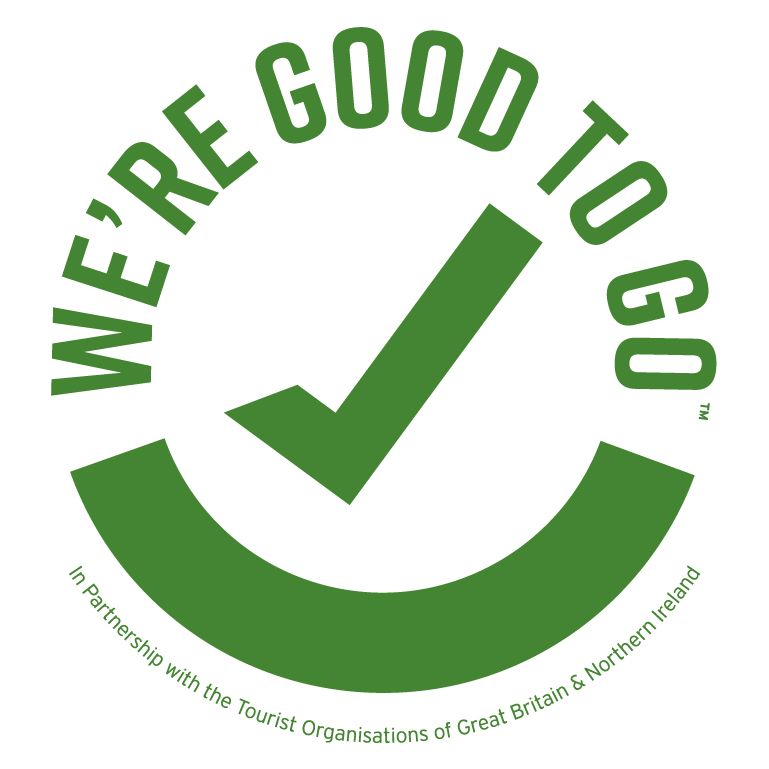 Socially Distanced Seating: We have reconfigured the auditorium and reduced the audience capacity to ensure that audience bubbles will be seated at least 1m apart. Tickets are only available in fixed groups of 1, 2, 3 or 4 to guarantee a 1m distance in front, behind and beside each group. All groups must be from a single household or support bubble and tickets as a group must be purchased by one booker.
Cleaning: We have enhanced cleaning throughout the building, in particular disinfecting contact surfaces, toilet facilities and seating. The theatre will be sanitised throughout the day and thoroughly between every performance including "fogging" the whole auditorium to disinfect it.
Ventilation: We have reconfigured our air conditioning system so it operates with 100% fresh air in the auditorium.
BEFORE YOU ARRIVE

Feeling Unwell? It is important that you do not travel to the theatre if you or anyone in your group:
•    is infected with COVID-19, or are showing any symptoms
•    has experienced symptoms of COVID-19 in the last 14 days
•    has been in close proximity to anyone who has experienced symptoms in the last 14 days
•    has been instructed to self-isolate or are awaiting a COVID-19 test result
Please contact us as soon as possible if you know you will be unable to attend and we can re-arrange your tickets. We have extended our usual ticket refund policy and we will be offering you the ability to refund or exchange your tickets.
Pack light: Due to COVID restrictions all our cloakroom facilities are closed, so please limit the number of unnecessary items you bring to the theatre. Only small handbags are permitted into the auditorium. Backpacks, rucksacks, shopping bags and buggies cannot be taken into the auditorium and therefore should not be brought to the theatre.

Dress for the weather: We will try to get everyone to their seats as quickly and safely as possible, but we may need to ask you to queue outside of the theatre so please bring appropriate clothing and umbrellas where necessary.
Please pack a face covering: In order to protect yourself, other theatregoers and theatre staff, you will need to wear a face covering at all times whilst in the theatre, unless medically exempt. Children under the age of 11 have exemption from wearing a face covering.
E-tickets: Please make sure you have downloaded your ticket to your digital device or have a copy printed. E-tickets will be issued via email within 1 hour of purchase and available to view in your Cambridge Arts Theatre Account online, under Upcoming Events. At the time of booking you should also receive a booking confirmation email, please keep the email for reference. If there are any problems please contact our Box Office team at boxoffice@cambridgeartstheatre.com and a member of the team will get back to you.
WHEN YOU ARRIVE

Arrive in time but not too early: The theatre will only be open 30 minutes before the performance starts. The only way into the building is via our St Edwards Passage entrance, all other doors will be exit only. 

Please join the queue: On arrival at the theatre please join the queue outside, ensuring you maintain a safe distance from others and we will ensure that we get you inside as soon as possible whilst keeping everyone safe. 
Venue Check-in: In line with updated Government guidance, we're now required to ask all visitors for their contact details and to check in with the NHS Test and Trace App when you arrive. QR codes will be displayed for you to scan and enter your details. If you do not have the App, we will also be able to take your details manually at our Box Office. Your information will be held for a limited period of 21 days solely for the purpose of Test and Trace or local public health officials. Please be aware if you decline to provide your contact details we are legally required to refuse you entry.

Temperature checking: As you enter the building, we'll carry out a temperature check. If your temperature is 37.8C or higher, you and those who were to be part of your fixed group of tickets will not be allowed to enter the theatre. We will contact you to arrange a full refund or credit voucher or alternatively exchange your booking to another date.  

Sanitise your hands: Everyone will be asked to sanitise their hands as they enter the building. We will have hand sanitiser available in multiple locations across the building.

You must wear a face covering: In order to protect yourself, other theatregoers and theatre staff, you will need to wear a face covering at all times whilst in the venue. Children under the age of 11 have exemption from wearing a face covering.

Ticket check: Please have your e-tickets ready to show a member of our Front of House team either on your digital device or have a copy printed.

DURING YOUR VISIT

Please stay in your seat: After you arrive, we will guide you directly to your seat inside the auditorium to help us maintain social distancing with other audience members. There will not be an interval at these productions.

Toilet Facilities: Toilet facilities will be open but they will be monitored to maintain social distancing so there may be longer wait times than usual. We recommend that you use alternative facilities before you enter the building.
Keep socially distant: During your visit please ensure you maintain a safe distance from anyone outside your bubble, at all times.

Follow the routes: When moving around the theatre, please follow staff instructions and signage to help maintain safe distancing.

Bar service: We will be offering a very limited bar service and we would ask you, if possible to use a contactless form of payment. We also ask that only one member of your party orders at the bar to reduce crowding.

We're here to help: All our staff will be delighted to provide guidance, please ask if you need any assistance, advice or help.
LEAVING THE THEATRE

Staggered exit: We will be asking everyone to leave the auditorium in groups to help with social distancing. Please stay in your seat at the end of the performance and wait until one of our team directs you to leave.

If you have any questions please do get in touch by emailing us at: boxoffice@cambridgeartstheatre.com.