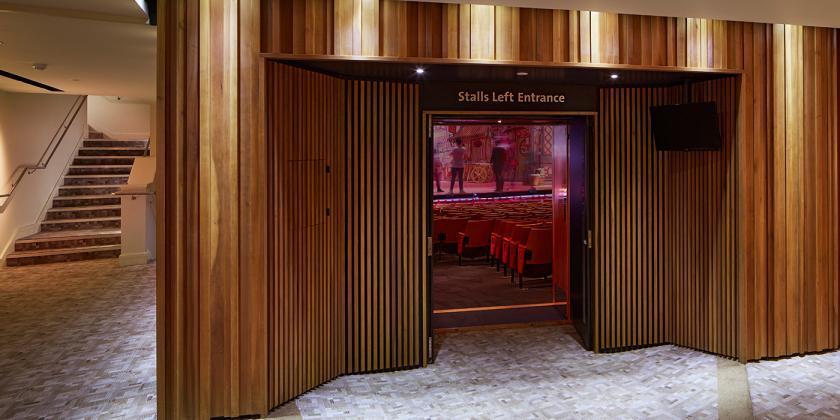 Tuesday 24 November 2020
A MESSAGE FROM OUR CHIEF EXECUTIVE REGARDING FUTURE PERFORMANCES AT CAMBRIDGE ARTS THEATRE
Updated 24 November 2020

Dear Friends and Supporters,

I hope you and your loved ones are faring well and managing to make the best of our surreal COVID world.

During our enforced closure we have been busy preparing a brilliant season of plays for Spring 2021, looking after our historic building and successfully applying for a grant from the Government's Culture Recovery Fund which will, hopefully, secure our future. We have also been scheming, dare I say dreaming, about what we might do at Christmas to replace our much-loved annual panto. 

So, on the back of yesterday's Government announcement, it is with huge relief and pride in our valiant team that I am able to announce that we will be presenting our brand-new show, Dame Trott's Panto Palaver, a feel-good panto themed adventure from Friday 11 December 2020 to Sunday 3 January 2021. 

Count Covidula, the stupidest, baddest baddie that you have never heard of, is sick of the good guys winning and wants to ruin pantomime for everyone. He's got his hands on this year's master scripts and is rewriting the stories with unexpected and hilarious results! 
 
Will Dame Trott and her beloved Daisy the Cow escape from the mean Giant Trumplebore? Does Dick Whittington become Mayor of London or will he be defeated in a rigged election? And will Cinderella ever marry her charming Prince, or will the Stoneybroke Lockdown have her home by 10pm? One thing's for sure: panto will never be the same again. 

We thought long and hard before deciding to create this year's show but realised that, this year more than ever before, we need take some control over our own destiny. This is us putting our best foot forward at the end of the most challenging year in our history. Amidst the COVID gloom I can promise you laughter, panto madness, feel-good songs, familiar faces and some much-needed festive cheer. Please join us for the fun.

We will be running the Theatre on a socially distanced basis under strict COVID guidelines and we are proud to be accredited as a 'See it Safely' venue, a scheme launched by the Society of London Theatre and UK Theatre. Our full COVID safety guide is available on our website. The show will last approximately 75 minutes and will run without an interval. Please rest assured that if the show is cancelled for any reason or you have to cancel for any COVID related reasons you will be given a prompt full refund.

Tickets are on sale now and can be bought online at www.cambridgeartstheatre.com or by phoning our Box Office on 01223 503333 - please check our website for current opening  hours. Please note that, sadly, our building will remain closed until we are able to begin performances again, so unfortunately you will not be able to pick up your tickets in person until then. As we are operating on a reduced seating capacity to allow for the social distancing requirements we anticipate high demand so please book early. 

Mischief Theatre's Groan Ups, originally 19 – 24 October 2020, has now been rescheduled for Spring 2021. Performances will now take place from Monday 5 – Saturday 10 April 2021. Affected Customers have been contacted by our Box Office team. We are so pleased we can still present this brilliant production and look forward to welcoming Mischief Theatre back. 
Plans are now well advanced for our Spring reopening season which I hope will start in February 2021, COVID regulations permitting. We are anticipating that shows will initially be presented on a socially distanced basis but we are hoping to be back to normal by April 2021. As soon as we have more certainty over the outlook for the theatre industry across the country, we will be announcing our reopening season. 

Finally, I want to say a huge thank you for the generosity and support you have shown us all. We have received countless kind messages and many of you have donated to the Theatre either directly or by choosing to donate the value of the tickets you had previously booked. Many familiar faces have stopped me and asked how we are all doing and what is going to happen to our Theatre. We are truly blessed to have such a wonderful community of friends and supporters around us. 

Thank you, as ever, for your steadfast support and I hope to see you over the festive season at Cambridge Arts Theatre.

With my very best wishes,
 



Dave Murphy
Chief Executive
Cambridge Arts Theatre