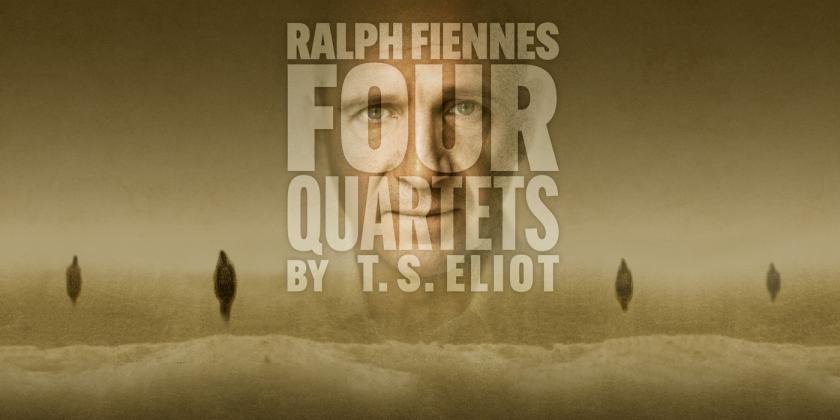 Tuesday 16 March 2021
SHOW ANNOUNCEMENT: Ralph Fiennes in Four Quartets
We are thrilled to announce that, as part of our live Spring/Summer 2021 re-opening season, we will be welcoming renowned actor Ralph Fiennes in T.S. Eliot's Four Quartets from Monday 28 June - Saturday 10 July 2021.
A year on from our initial closure due to the Coronavirus pandemic we are delighted that we can look ahead to welcoming audiences back this Spring with a world-class production. Tickets will be on sale soon so keep checking our website and social media channels for any updates, plus further news on our exciting upcoming season...

Join our mailing list to be updated about our on-sale dates! Click here to add your details.
________________________________________________________________
FOUR QUARTETS
Time present and time past
Are both perhaps present in time future,
And time future contained in time past.
Ralph Fiennes directs and stars in a world premiere adaptation of T.S. Eliot's Four Quartets to welcome audiences back to live theatre. Compelling, moving and symphonic, Four Quartets offer four interwoven meditations on the nature of time, faith, and the quest for spiritual enlightenment. Mostly written during WWII when the closure of playhouses during the Blitz interrupted Eliot's work in theatre, the four parts (Burnt Norton, East Coker, The Dry Salvages and Little Gidding) were the culminating achievement of Eliot's Nobel Prize winning literary career. 
Ralph Fiennes' distinguished stage work is matched by performances in some of the greatest films of our time, including Schindler's List; The English Patient; The Grand Budapest Hotel; The Constant Gardener; Skyfall; In Bruges; The Dig and The Harry Potter series. The winner of a Tony Award for playing Hamlet, he has performed many of theatre's most iconic roles, with recent credits including Anthony and Cleopatra (National Theatre), Richard III (Almeida) and The Master Builder (Old Vic). 
He is joined by a remarkable creative team including Hildegard Bechtler (Designer) who won an Olivier Award for After the Dance at the National Theatre; Tim Lutkin (Lighting), winner of an Olivier Award for Chimerica and Christopher Shutt (Sound), winner of a Tony Award for War Horse.