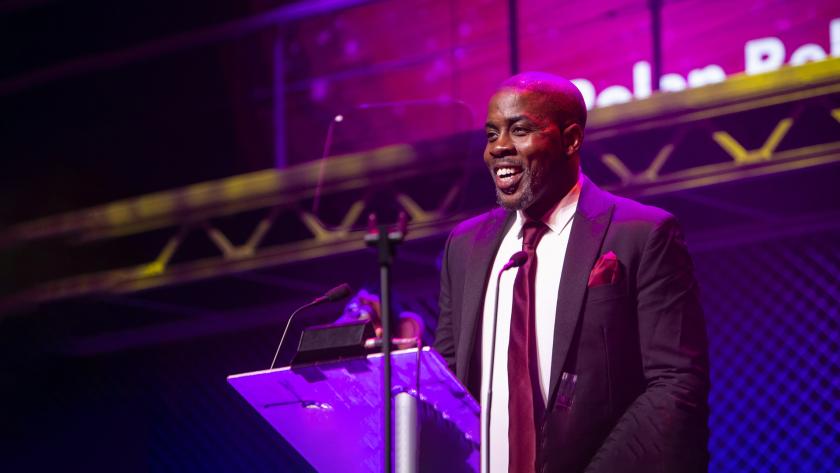 Friday 22 April 2022
Our pantomime star Rolan Bell wins 'Best Villain' at The Pantomime Awards!

We are absolutely thrilled to announce that actor Rolan Bell, who played the dastardly evil Abanazar in our 2021 panto Aladdin, has won the award for 'Best Villain' at The UK Pantomime Association's Pantomime Awards.

Last week the country's pantomime stars, producers, directors (and everyone in between!) gathered at London's Trafalgar Theatre for the annual awards, where 22 awards were handed out - and Rolan came home with the esteemed title of the UK's best baddie!

Rolan Bell: "I was so surprised about winning that my wife had to nudge me out of my seat – I'm still pinching myself now! The award is a humbling and very much appreciated accolade and a fantastic bonus on top of playing the baddie at Cambridge Arts Theatre. I've always enjoyed working there, so now it feels like a home away from home. As a collective, we had a great time getting the show up and running. I absolutely loved playing Abanazar in a pantomime I was very proud of, so you may just find me sinking my teeth into a few more baddie roles in future!"

Dave Murphy, Chief Executive at Cambridge Arts Theatre: "Everyone at Cambridge Arts Theatre is thrilled to see Rolan win 'Best Villain' at The Pantomime Awards. Over 22,000 adults and children just loved to hate our baddie Abanazar, so it's fantastic to see Rolan be recognised for his brilliant performance."

Well done Rolan!