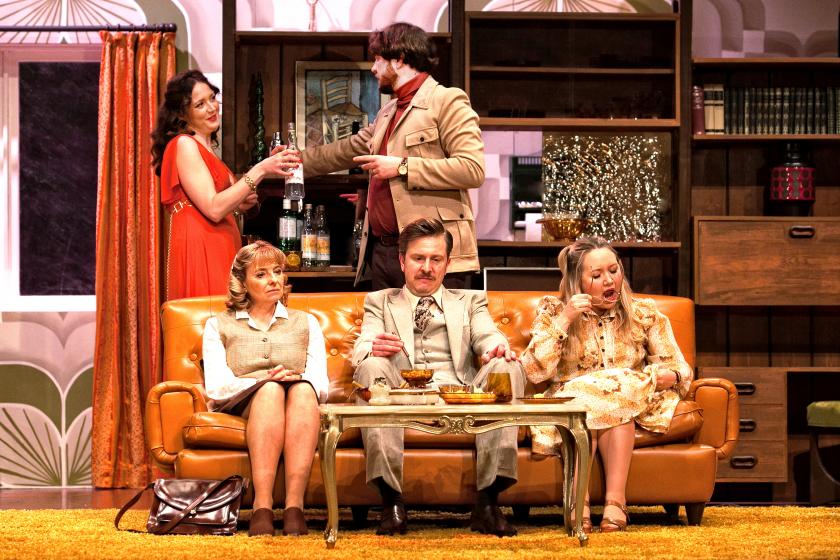 Tuesday 14 March 2023
5 minutes with the cast of Abigail's Party

Written by Mike Leigh and first performed in 1977, Abigail's Party is still widely regarded as a national treasure and a must-see play. We are thrilled to welcome a brand-new production of this classic comedy next week from London Classic Theatre and before the cast arrived, we caught up with them to ask them a few questions about the show...
Before joining the production, had anyone seen the play before? If so, were you nervous about stepping into such iconic roles?
George Readshaw (Tony): I had never seen, read or even worked on a scene from the play before getting the audition through. I then made the conscious decision not to watch the filmed version in order to bring a freshness and my own tilt on the role. I was nervous as it is such a well-loved piece, and we needed to get it right, but we all worked together to really interrogate what was going on beneath the surface, and who these characters are.
Alice De-Warrenne (Angela): I'd seen the famous TV version and at first it was hard to imagine the characters as anything other than replicas of those iconic performances. However, after the first cast read through it was obvious that everyone was going to bring  something unique and fresh to each role. It is daunting to take on such an iconic part but it's also a huge privilege!
Tom Richardson (Laurence): I was/am a BIG fan of the original version! In fact it's one of my favourite pieces – so it was very exciting to get involved and start rehearsals. One of the best things about working on this production is that Michael (the director) and the cast have treated it like a new play – new to interrogate and scrutinise, whilst bringing our own perspectives to it. 
Jo Castleton (Susan): Yes I had seen the TV version of the play, and also a stage version years ago in town. I think I am lucky in that my character Susan isn't quite so iconic as Beverley for example and we have all found our own version of these characters.
Can you tell us a bit the rehearsal process, how long did you have and where there any memorable moments as a group?
George Readshaw (Tony): We had to come in on day one with some ideas, and notions about what these characters were about. Some of these ideas stayed, but inevitably, a lot of your preliminary ideas go out the window once you start playing with the other actors and work with what they give you. The play is all about relationships, and once you start mining those relationships for detail, your first impressions of the characters change dramatically.
Alice De-Warrenne (Angela): The rehearsal process was so much fun! Our director Michael Cabot really helped us find what makes each of our characters tick which in turn gave every line so much purpose. I think the first moment that all characters were in the room together was really special, the onstage chemistry was electric, and everyone bounced off each other's energy. 
Tom Richardson (Laurence): We rehearsed for 3 weeks before technical rehearsals and opening in Winchester. From day one I think it would be fair to say that everyone's instincts were really strong for the role that they were playing, so it's been a really creative and collaborative experience. We also had a lot of the 1970s paraphernalia in the rehearsal room from day one, so that really helped evoke Beverly and Laurence's living space.
Jo Castleton (Susan): We had a great 3 weeks rehearsing and spend the first day looking at the historical context of the play and working through each characters back story. Everyone works so well together and we always played a warmup focusing game to keep us listening to each other.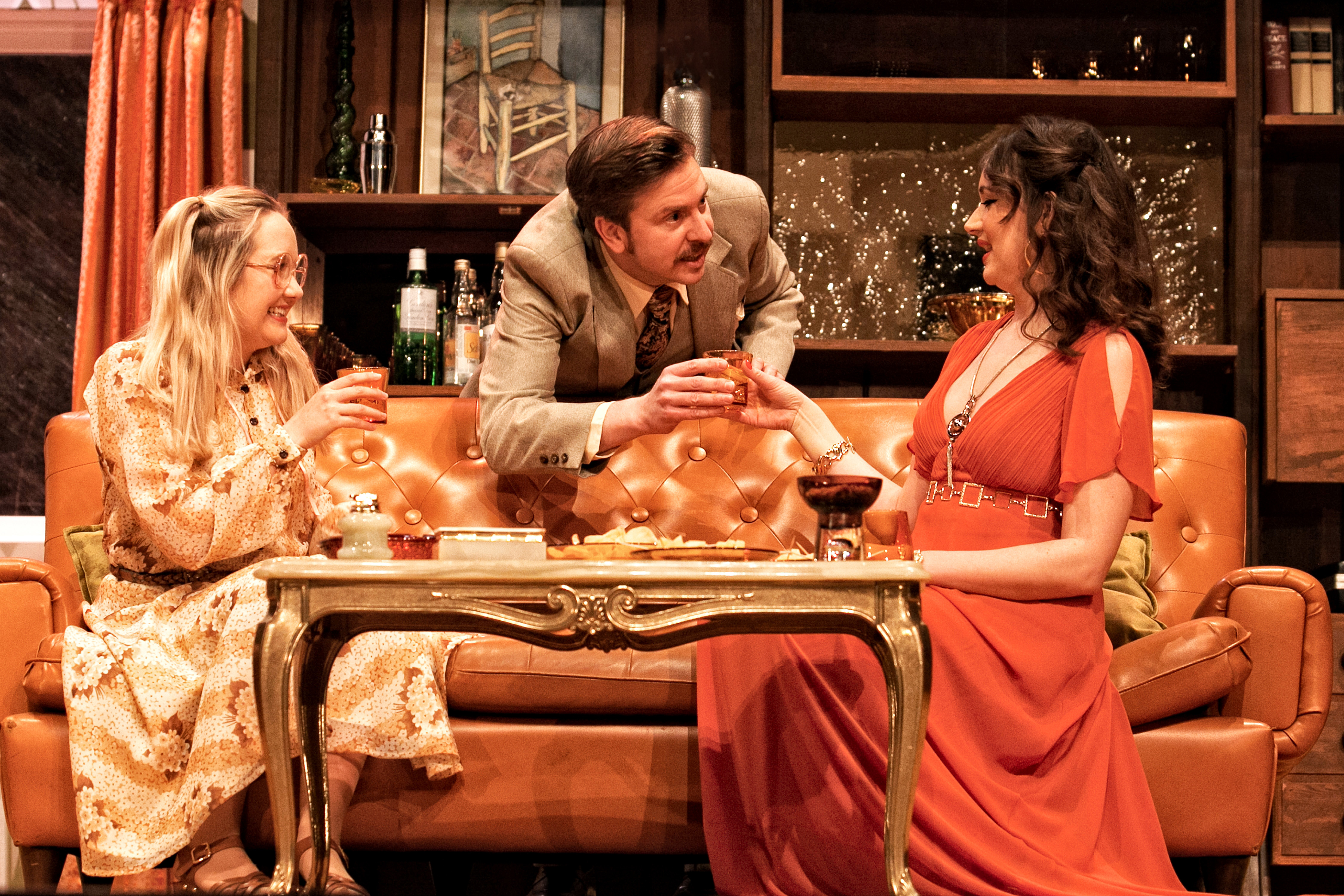 Do you have a favourite character in the play (other than your own!) and why?
George Readshaw (Tony): I love Beverly. She is a maelstrom of bravado, vulnerability, sadness and anger. She drives the play from start to finish and on the few occasions that she leaves the stage, the action alters. She is a complete creation and needs an actress who can inhabit her completely; drinks, cigarettes, jewellery and all, and luckily our leading lady Rebecca has her in her bones. It's a joy to behold.
Alice De-Warrenne (Angela): Oh, it's too hard to pick a favourite! They're each so wonderful and awful in their own ways! I think because the characters are all so different, they each bring something unique to the piece.
Tom Richardson (Laurence): I think I'd have to go with Beverly - she's incredibly complex, and also an expert hostess, so it's never readily on the surface what she's really thinking – I think that's electric to watch. Laurence is much less capable at hiding his feelings, even though he tries to for the sake of keeping up appearances.
Jo Castleton (Susan): I love Angela. I love her enthusiasm and her dancing.
What makes the play, which celebrates its 46th birthday later this year, still feel relevant today?
George Readshaw (Tony): It is like an origin story for where we are today. It showcases an era of consumerism, class-based struggle and inter-generational differences. 
Alice De-Warrenne (Angela): Well the play explores class, aspiration and relationships – themes that are all so relevant today. It's as though Mike Leigh holds it a mirror to the audience and says 'hey, look at all this silly stuff you worry about – isn't it funny?' while the characters compare what car they have or what they had for dinner.
Tom Richardson (Laurence): 1977 was a period of politic change and unrest and the country was swinging between extreme views, so in that capacity alone it feels very pertinent to today. But essentially the way human beings in relationships relate to each other and their neighbours doesn't change – it feels like the world is just as obsessed with material wealth as it has ever been, if not much more so. 
Jo Castleton (Susan): Social aspiration never goes away. Trying to 'keep up with the Joneses' has simply changed to the Kardashians or the next best thing. Taste and what we think is good or bad is relevant today as it was then. We have all been to parties that descend into drunken chaos, these characters are all struggling with flawed relationships, and that never changes.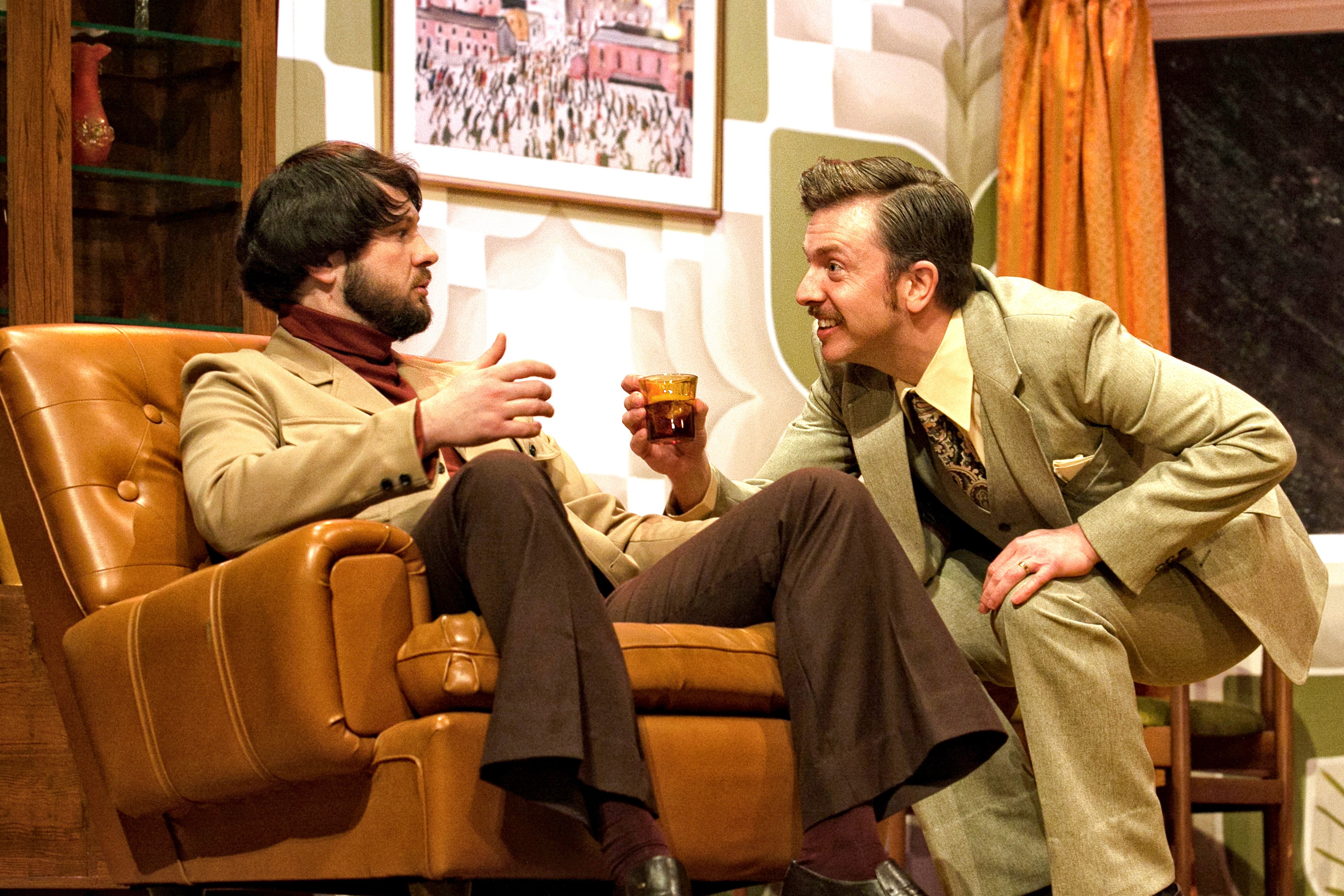 Sum up the show in 3 words…
George Readshaw (Tony): Drunken, suburban, chaos.
Alice De-Warrenne (Angela): Hilarious, awkward, and tense.
Tom Richardson (Laurence): "Cheesy-pineapple one".
Jo Castleton (Susan): Painful party chaos
Abigail's Party runs from Tuesday 21 - Saturday 25 March, with tickets from £20.