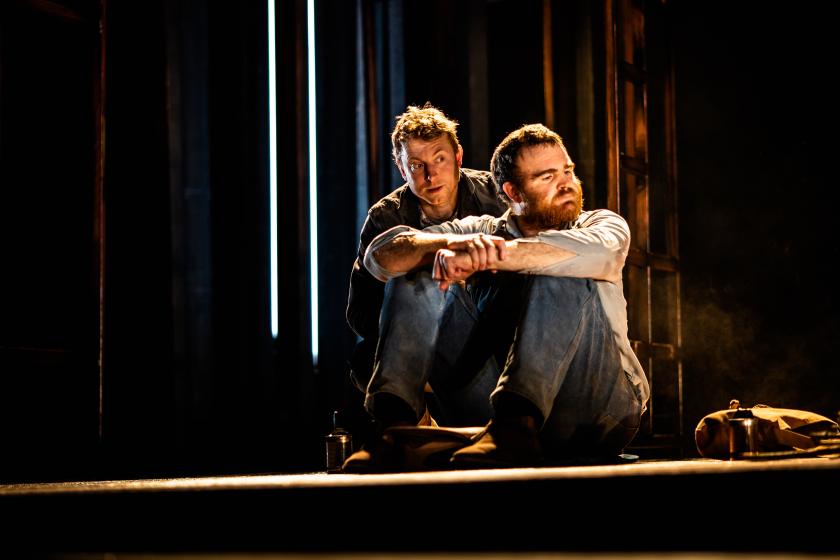 Thursday 30 March 2023
Behind the scenes with the cast from Of Mice and Men
In this article, written by Diane Parkes, the cast discuss the relevancy of this American classic and why this production is so special. 
Birmingham Rep premieres a new production of John Steinbeck's classic Of Mice and Men this March, touring to Cambridge later in April. Directed by Rep Associate Director and Birmingham 2022 Commonwealth Games Opening Ceremony director Iqbal Khan, the drama tells the story of a friendship between two men – Lennie, who is physically huge but with the mindset of a child, and George, his closest ally and protector.
Set in the USA during the Great Depression, the two men move to a new farm in their search for work. Here, they finally hope to put down roots but then tragedy strikes and their friendship is put to the ultimate test.
Tom McCall, who plays George, wasn't previously familiar with the story but he had no sooner read the beginning than he knew George was his perfect part.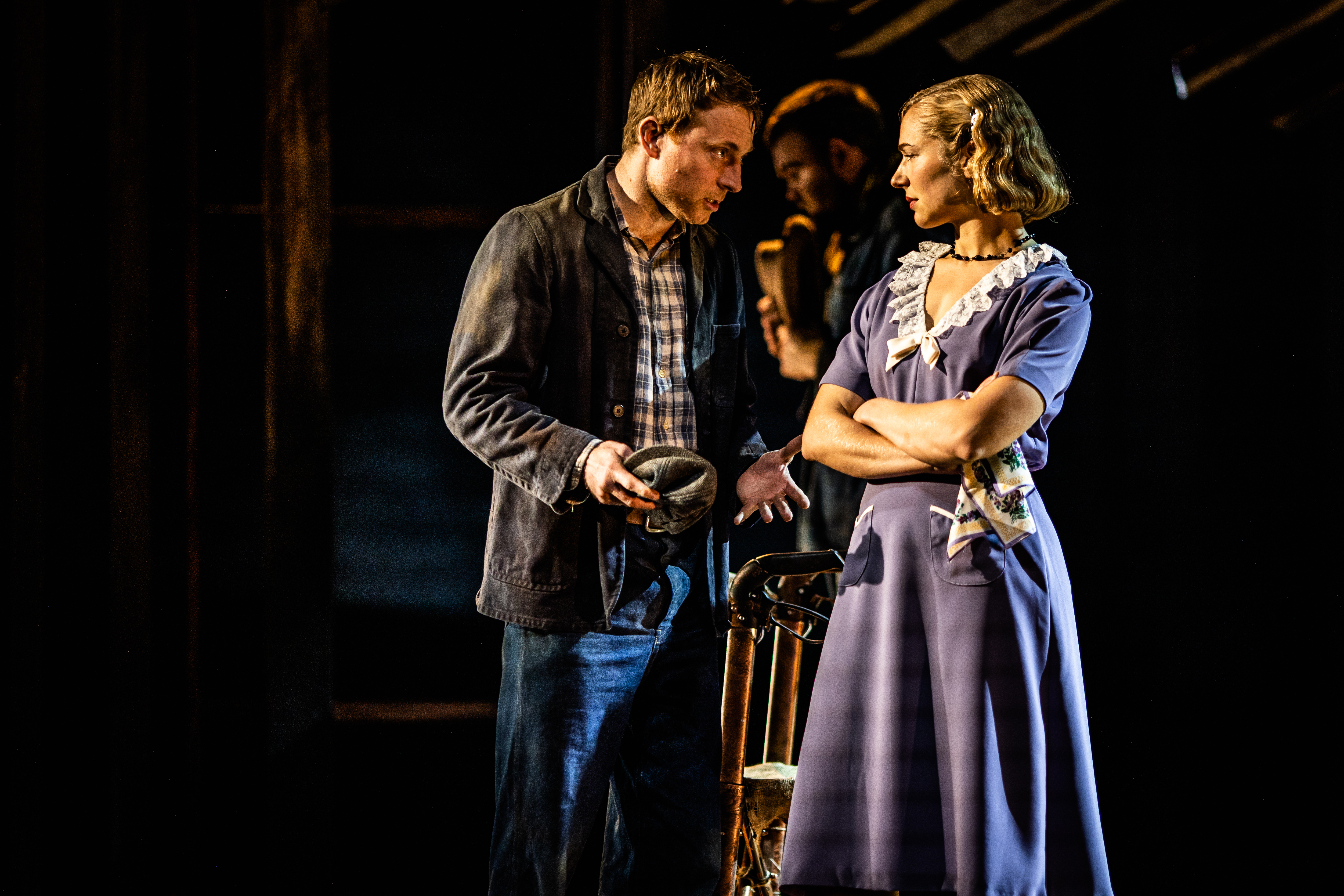 "The relationship between Lennie and George is brotherly but it's parental as well and, having recently become a father, this made me really want the part. George's fierce protection of Lennie and his unwavering support are not easy - much like being a parent.
"What I like about George is his care and his love as well as his fierce wit and his speed of thought. He has an ability to become who he needs to be in this hard, hard world of the play. He has a dream and he has hopes and aspirations, and I think part of the tragedy about George is he's constantly putting a lid on that because he's scared. I feel like he is striving for this thing the whole play and it's kind of sitting there in front of him in Lennie. His purpose and his dream are irrelevant if Lennie is not there."
Tom grew up in North Birmingham, attending Arthur Terry School in Sutton Coldfield, before training at London Academy of Music and Dramatic Art. Now living in Stratford-upon-Avon, he has performed in a host of Royal Shakespeare Company productions and sees parallels with some of those roles and George.
"George is one of the great parts, it's up there with anything that Arthur Miller has written and all of Shakespeare's biggies. What happens across the four days from the start of the play to the end is just a million miles away from George at the beginning. And that is what I'm looking for in a part - someone who starts as one thing and ends as something else. I'm blown away by this part."
For Wiliam Young, playing Lennie is like meeting up with an old friend, as he also took the role in August012's production in Cardiff in 2017. And he is keen to breathe life into Lennie again.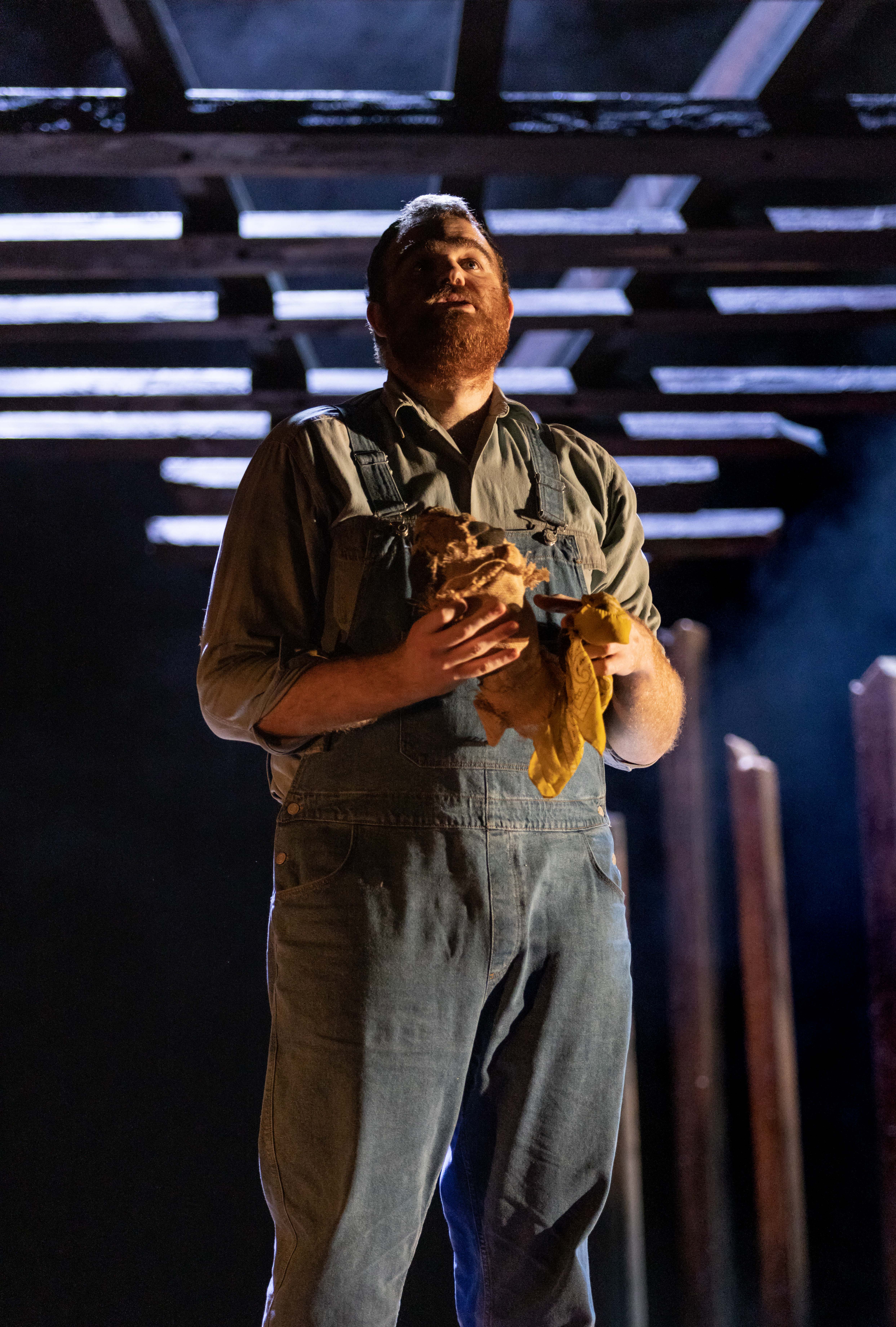 "There's a child-like quality to Lennie which has been interesting to explore," says Wiliam. "For a big guy he's like a little baby, he has a real innocence and he loves animals so he's always petting something, which drives George mad.
"I feel that there is a deep connection between George and Lennie. I get where George is coming from about being fiercely protective but also quite gentle with Lennie. You can see Lennie runs George ragged but there's a genuine affection for him.
"Lennie gets into trouble easily but that is part of his childish charm. George says he's 'like a kid with no harm in him except he's strong' and that gives you a clue on his mentality state which is what makes him so tragic – he's a big guy but with the mind of a five-year-old. But there's just something about Lennie that makes you smile."
Wiliam, who grew up in North Wales and first fell in love with acting as a child, was born with agenesis of the corpus callosum and has complex learning difficulties – which he believes has helped him empathise with his character.
"I think getting into Lennie's mindset is easier having a similar condition to what Lennie probably has, although his is undiagnosed," Wiliam says. "It's difficult for somebody with autism or ACC to express their feelings and get stuff out and they need more time to process, all like Lennie.
"Working with Iqqy [Iqbal Khan] has been an experience because he listens and lets you play with ideas if you have them to see if they work. If not, then we will move on no damage done but, if they work, he lets you do it.
"So I thought it was natural for Lennie, when he got upset or it was too much for him, he would sort of start rocking and then when George really lays into him he gets worse and worse. George then puts his hand on Lennie's chest to bring Lennie back down and to regulate his breathing again - and to show the love that George has for Lennie."
Wiliam's condition can pose challenges when it comes to some of the practicalities of acting.
"It takes me longer to take lines in so it's easier if I do it in chunks. It takes me a bit of time but the rehearsals have been going really well."
And Wiliam's contribution is also appreciated by other cast members.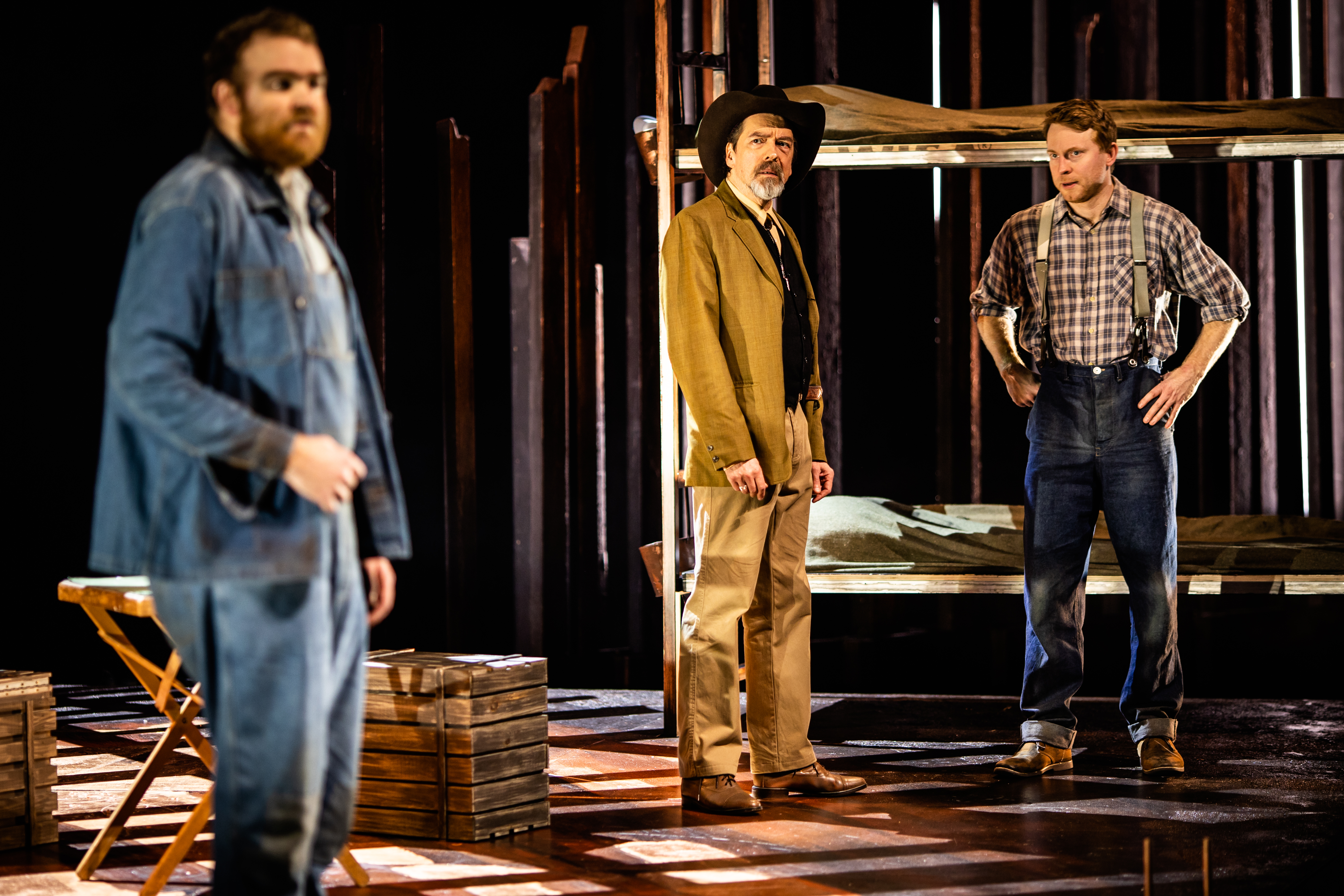 "With this company there's a lot of lived experience and that's something you don't usually see on stage much," says Tom. "There's three actors with disabilities playing characters – and they're bringing that life experience to the show. It makes such a difference, I'm so glad theatre is now waking up and putting people on stage with a lived experience."
And particularly, Tom says, because Of Mice and Men focuses on characters who struggle to be accepted.
"This is a play about people striving for their place in the world, literally and figuratively. For George and Lennie, they're striving for a home and for some of the other characters they're striving for a community. The show is about all these displaced people who are trying to find their place, which sings to today big time."
Of Mice and Men is at Cambridge Arts Theatre from Wednesday 19 April to Saturday 22 April 2023. Tickets start from £20 and can be booked via the website or by calling the Box Office on 01223 503333.