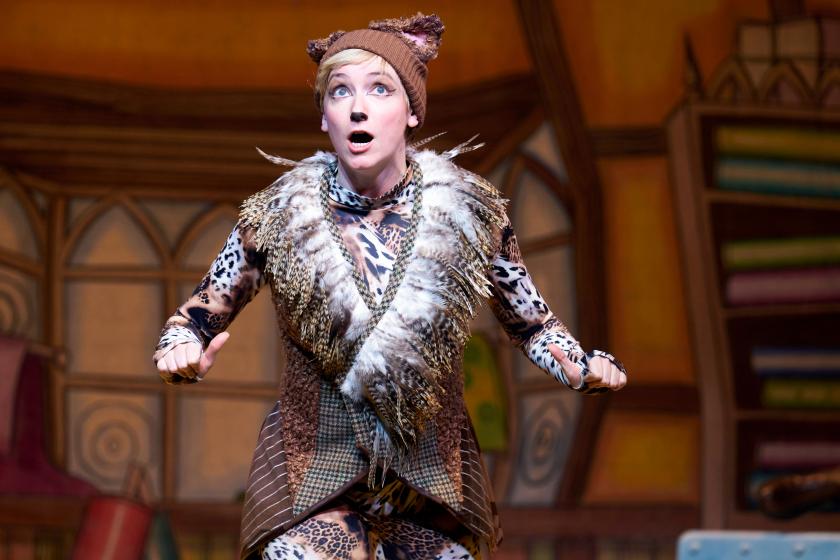 Tuesday 13 December 2022
Dick Whittington and his Cat: A Note from Charlie Cameron!

That's it! Slap a custard pie in my face and call me Twankey. I am hooked! 

This is the first time I'm performing in a proper pantomime and I love it. I've done Christmas shows before, but there is a vast difference between standing half way up a ladder dressed as a Dickensian sprinkling bits of paper snow onto a dimly lit stage singing In The Bleak Mid Winter, to standing half way up a ladder dressed in an outfit Grayson Perry would think over the top, pouring fake wallpaper paste onto the top of a pink wigged Dame singing Dolly Parton's Nine to Five.

It's always been on my bucket list to do a panto, something to tick off for the experience - but now I've done one (it's a bit like Shakespeare), I just want to do more! Yes, I compared pantomime to Shakespeare and I'm not going to end there. In fact, I have never felt so close to being a Shakespearean actor of that time, even more so than when I'm performing actual Shakespeare! A rowdy audience, cross-dressing, every time a new character enters they have a soliloquy (ok... they introduce themselves and tell a bunch of silly jokes to the audience, same difference!), physical comedy, topical gags and of course a fair smattering of toilet humour. 

Most of all, I've never felt such a connection with an audience before. It's as if there's loads of 'in jokes' but the 'in jokes' include the audience. It may be a joke about the state of the government, something in the news that day or what happened during last night's performance. Dick Whittington says "you don't even know my name" and a child shouts out "his name is Dick!". Usually when that happens we go off peiste and include the shout out but instead I raise one eyebrow to the audience and bite my bottom lip before continuing with the dialogue, all relying on the fact I don't know his name - and there it is! An 'in joke' between myself, Dick and the entire audience that night. 

The audience is the most crucial part of the pantomime. During rehearsals we took it in turns to be the audience, which I enjoyed far too much! It was like being a kid again, which I guess is the point of going to a pantomime. Once we had a real audience it felt like the missing piece of the jigsaw was finally in place. I was a little nervous about scenes with just me and the audience, and how I would get the audience to respond at the right time... Now I'm wondering how I can get the children to stop shouting long enough so I can get on with my next line! It is glorious. 

There is one particular scene where we ask the audience to wake me up if they see a rat. By the third sighting, often the children just give up on words and start screaming! As I lie there with my eyes closed, contemplating the sturdiness of their vocal chords, I wonder what is going through their heads. Do they know it's make believe? Or do they think it's all real? Are they just allowing themselves to get lost in the magic? I think it's probably the latter.

It is the magic of theatre at it's very best and I am beyond proud to be getting lost in it two or three shows a day until 8 January. Tired? Just a bit, but it's hard to be tired when you have 600 kids screaming at you to wake up. 

Charlie Cameron (Tommy the Cat)

Dick Whittington and his Cat runs until Sunday 8 January. For more information and how to book tickets please click here.